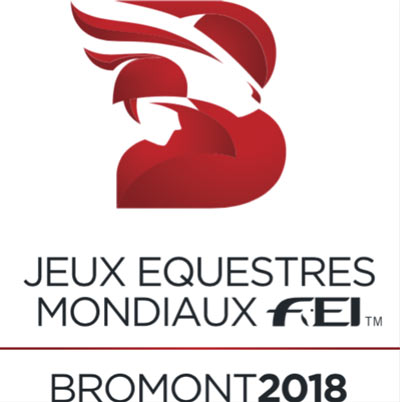 Via: horsetalk
Organizers of the next World Equestrian Games in Bromont, Canada, have unveiled the Games logo, as officials marked the 1000-day milestone before the event.
The president of the board of directors of the organizing committee for the 2018 Games, François Duffar, released the new logo, which is based on a giant letter B to emphasize the host city and the colour red, representing the Canadian flag.
In a continuation of the branding developed for the 2014 Games in Normandy, the logo includes a rider's head merging with the shape of a horse to reflect the close, harmonious relationship between the rider and their mount.
The organizing committee also marked the 1000-day milestone with an information session for the citizens of Bromont at the St-François-Xavier church. It provided an overview of progress in preparation for the Games, which will be staged from August 11-26, 2018, on the equestrian site of the 1976 Olympics.
Luc Fournier, the president and director general, reassured residents of Bromont and the region who were present at the event around several issues, including housing, transportation, sustainable development, and the wellbeing of the horses.
Bromont Mayor Pauline Quinlan reaffirmed local support for the Games and the commitment of the entire population to the event.
Local Member of Parliament Denis Paradis underscored the benefits of the Games project, as well as the pride that the international exposure would create.
The Games will attract about 65 countries, with 1000 riders and 1000 horses competing across eight disciplines.
The event will likely attract 1500 media representatives and 270 specialised photographers.
Bromont will become only the second location outside Europe to have held the Games, the other having been Lexington, Kentucky.
The first Games were held in Stockholm, Sweden in 1990.
END