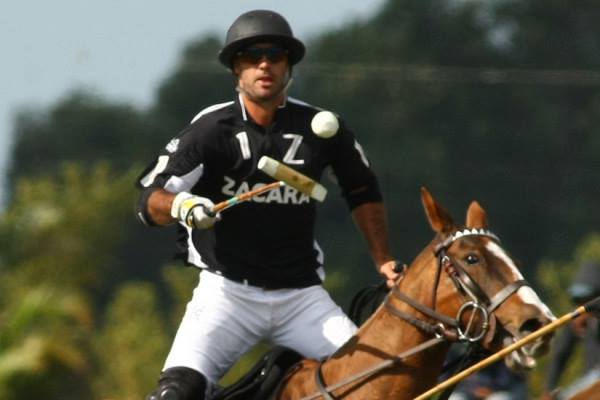 By Bridget McArdle McKinney

Narrowed down from a field of 16 high-powered teams duking it out for nearly a month in a staggering 45 matches in the run for the Grand Slam-ranking Veuve Clicquot Gold Cup on 21 July, today in the semi-finals Zacara walked away with the Tramontana Cup with 14 goals to 8 over Talandracas and Dubai handily lifted the Ellerston Cup in an impressive 17 to 7 win over the heavily-favoured El Remanso.

The Talandracas – Zacara bout, unlike the later slow moving avalanche of the Dubai/El Remanso match, was more like the Battle of the Titans. Talandracas (Edouard Carmignac, Juan Martin Nero, Lucas James and Juan Jauretche) held Zacara (Facundo Pieres, Lyndon Lea, Rodrigo Andrade and Matt Perry) to a virtual draw in the first and second chukkas, defense meeting defense, mano a mano. But in the third, Zacara opened up its forward drive and with three quick goals put the score at 7 to 3. The Titans then parted company with Zacara steadily mounting its offense and pocketing goals and even Talandracas' final push in the sixth wasn't enough. Zacara took it home 14 to 8.

Dubai (Rashid Albwardy, Nico Pieres, Adolfo Cambiaso, and Alec White), already strong coming into this tier of play, proved its character and sustainability in this match against El Remanso (Ali Paterson, George Hanbury, Pelon Stirling and Guillermo Terrera). From the second chukka on, Dubai commanded the game and by the end of the fourth chukka with goals standing at 13 to 6 there was little hope for El Remanso. In the fifth, with El Remanso on the ropes Dubai took it to 16-7 and with the match in the bag, Dubai had a relaxing final chukka ending the rout with a final score of 17 to 7.

And so, Dubai and Zacara advance to the Veuve Clicquot Gold Cup for the British Open Polo Championship Finals! Wait, though, there is more to be won on 21 July than a gold cup. Each winning player will earn 150 WPT points, and that means that either Zacara's Facundo Pieres, the No. 1 world-ranking player (at 967 points) or Dubai's Adolfo Cambiaso, the No. 2 (at 962 points) will become the new world's champion polo player by far!