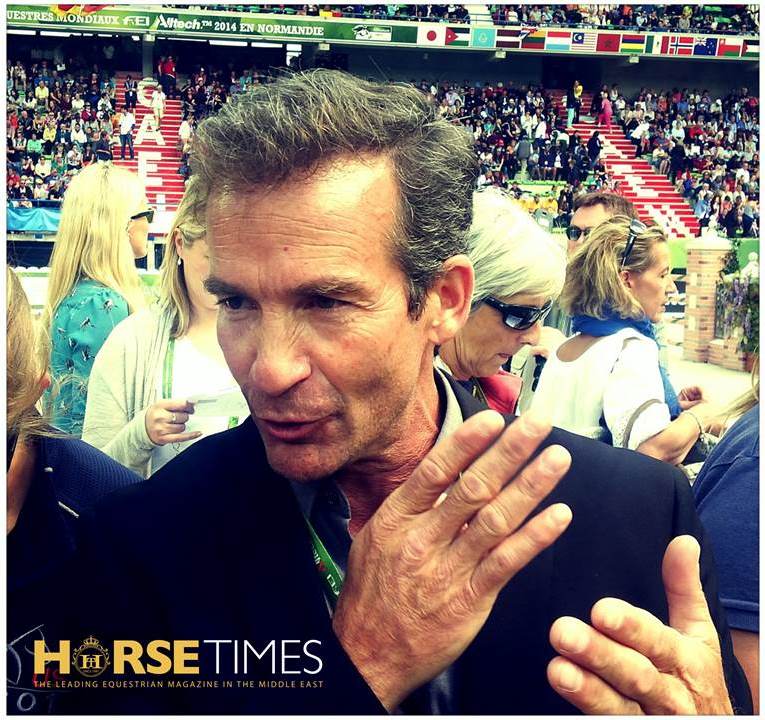 It's show jumping day for the eventing competitions at the Alltech FEI World Equestrian Games 2014 in Normandy. We managed to walk the course with French Course Designer Frederic Cottier.
The length of the course is 580 meters and time allowed is 93 seconds with 1.30m maximum height.
We asked Frederic to explain the course and here is the summary:
From fence 1 to 2 there's no particular number of strides, the rider can decide how many to take depending on the time and the right point to turn. Fence 2 is tricky because there's green grass underneath the blue fence and the horse could get confused. From fence 2 to 3 it's 6 strides, and fence 3 is difficult for the horse since there's water underneath the fence and the fence's colour isn't flashy but calm; the horse might focus on the water. From fence 3 to 4 the distance is long and the rider has to focus on the time, and also has to focus not to be too far or too close. Fence 4 is tricky because there is design involved and could distract the horse. From fence 4 to 5 it's 7 strides and the fence isn't difficult. From fence 5 to 6 it's difficult as the distance is long and the rider has to pay attention to the time and to turn on the right point or it will be difficult to jump high. From 6 to 7 there's no certain number of strides, and the difficulty in fence 7 is that its colour is quite flashy and is high and the colour might distract the horse. From fence 7 to 8 the rider has to focus on the speed because they're 3 fences close to each other; the distance between 8a and 8b is 2 short strides and between 8b and 8c is 1 long stride: 8c is difficult because it's wide and high and so the rider has to come towards the fence with the right speed and slow the horse. From fence 8 to 9 the strides depend on the time, fence 9 is tricky because it's red and that's a new colour for the horses. From fence 9 to 10 it's very difficult because of the turn and the time. From fence 10 to 11 there's no difficulty. After fence 11b the rider has to collect his horse because after the double horses tend to go faster and the distance between 11b and 12 is short, with the colour of fence 12 not being flashy so it won't attract the horse's attention.
We also asked Frederic if he expects many crashes and he answered, "Yes I do. I expect a lot of mistakes and a lot of suspense because the horses are tired from the cross country yesterday and the colours of the fences are different. Also there's a small margin between individual points and team points. Let's see."
*Scroll down for picture of course
** Eventing Show Jumping Start List
--Ends--