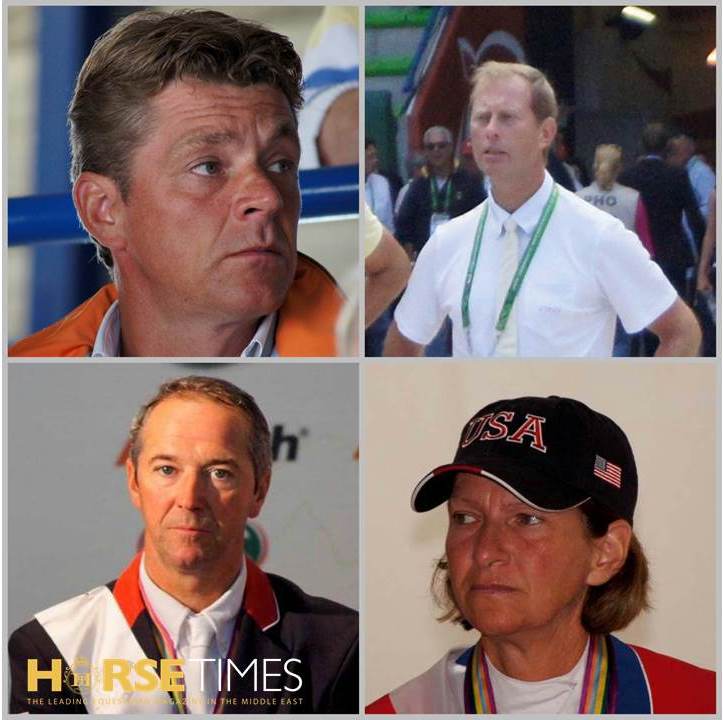 Who could sustain more pressure?
The individual final began with 29 riders jumping a 12 fence course, after which there would be a second round over a completely different course. 30 riders actually qualify but Ludger Beerbaum elected not to jump. Faults from previous rounds are carried forward but there was less than a fence between the top ten riders before the class began so who would fill the top four places (who compete again Sunday for the medals) was still anybody's guess. Arab hearts were almost immediately lifted when Sheikh Ali Al Thani steered Vienna Olympic round without error.

However some notable combinations did not fare so well. The darling of France, Penelope Leprevost, had a fall at the water when the relative inexperienced Flora DE Mariposa put a foot down in the water and fell. Belgium's Gregory Wathlet had a stop in the Rolex combination and team gold medallist Gerco Schroeder knocked up a cricket score of 12 faults on Glocks London. Soren Pedersen lost his grip on third overnight with another 12 faulter and Rodrigo Pessoa gave himself a mountain to climb when Status put a foot in the water. Beezie Madden and Cortez C moved down to third with a rail down after her two closest pursuers were clear. Patrice Delaveau (Orient Express) and Rolf-Goran Bengtsson (Casall ASK) were both clear. Those were the last two of eight completely clear rounds. 19 year old Bertram Allen and Molly Malone from Ireland were also clear over the fences but scored one for time. But this was still an extraordinary performance from one so young. Bertram, who is based in Germany, also won the opening speed class. Proving that all is not lost with a bad performance on the first day, Steve Guerdat and Nino des Buissonets were among the clean sheets and they had risen to eleventh, only two fences behind the leaders, from 47th after the speed round last Wednesday. The World Championships are a lot of jumping for the horses if you make the individual finals; jumping five days out of six over enormous fences. Sheikh Ali though was in with a real chance of a top four placement and after the strong Arab finish at the Olympic Games in 2012, no one would be betting against him improving on the seventh spot where he was lying as the second round began.

A new course meant a new challenge and lots to play for. Both the Dutch and the Irish still had three riders in although realistically, only one of each was in contention (Jeroen Dubbeldam and Daragh Kenny). Of the other ladies, Edwina Alexander was in eleventh, but much could change during Round B.

There was no open water in this round but the oxers were huge and two were over water. First clear round went to Morocco's Abdelkebir Ouaddar and his delightful horse Quickly de Kreisker, who still had enough energy to give a few customary bucks on the way round. That clear was swiftly followed by one from Marcus Ehning and Coronado and another from Denis Lynch and All Star. It was beginning to look as if Round B would not be difficult enough to sort the riders out any further. But then a fence caught out Steve Guerdat and Rodrigo Pessoa retired after two rails fell. But Bertram Allen was clear again, Molly Malone showing no signs of being tired in the slightest. Sadly the made of Sheikh Ali looked a little less fresh and the combination from Qatar dropped two rails but it was still an excellent performance.

McClain Ward was the first to put pressure on the leaders with a clear on Rothschild which meant he couldn't finish lower than sixth and he could easily make the top four. Then Jerome Dubbeldam matched him and it was all about who was going to make a mistake. The first person to do so was Daniel Duesser. Cornet D'Amour took the upright before the combination down with his front legs leaving German hopes in tatters. Beezie Madden made no mistake in this round to ensure her final four spot.

French hearts were in their mouths as Patrice Delaveau jumped. And well they might be; Orient Express was so far off the last he had to grow wings to clear it but clear it he did to the joy of the French crowd. That only left Rolf-Goran Bengtsson. With McClain waiting to capitalise on any mistakes, the Swedish rider winner of medals at European and Olympic level could afford one mistake but not two. And he had one mistake at the huge oxer at fence 4, a mistake so bad. Both horse and rider were lucky to remain on their feet but Rolf is not so decorated for nothing. Keeping icy Swedish calm he maintained his balance and jumped the remaining fences beautifully.
So Sunday's Final will be ridden by Rolf, Beezie, Jerome and Patrice. Four rounds…each riding each other's horses.
We can hardly wait!
See full results HERE
See start list of final four HERE
--Ends--