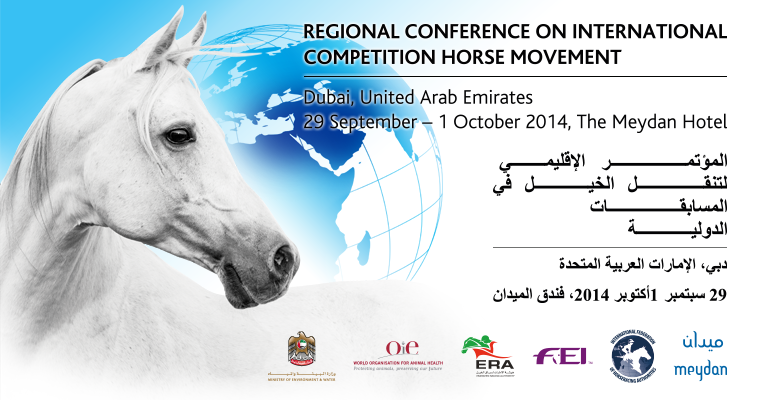 Via the FEI
FACILITATION OF INTERNATIONAL COMPETITION HORSE MOVEMENT (FICHM)
The International Movements of Horses conference, being held in Dubai for the Middle East and North African region, is the 3rd of its kind. The summit follows the format of the conferences already held in Panama in 2012 and in Hong Kong this year. It is organised within the framework of a public-private collaboration established between the World Organisation for Animal Health (OIE), the FEI and the International Federation of Horseracing Authorities (IFHA).
The objective of the conference is to create an improved approach to the temporary movement of high-performance horses, in line with the established OIE principles, and acknowledging that they present a lower risk to the importing and exporting countries. The countries in this region are already engaged in the promotion of regional harmonisation through the Gulf Cooperation Council (GCC).
This week's conference is one of the most important meetings on this subject that has ever been held in this region. It includes workshops which will see the regional veterinary services, national equestrian federation and racing authorities collaborating on the rational for establishing distinct rules for the temporary import of horses as well as on the harmonisation of the requirements for their movement between countries in the region and at the global level.
Scroll down for message from FEI President HRH Princess Haya to the delegates of the Regional Conference for the Middle East and North Africa on the Facilitation of International Competition Horse Movement.
--Ends--