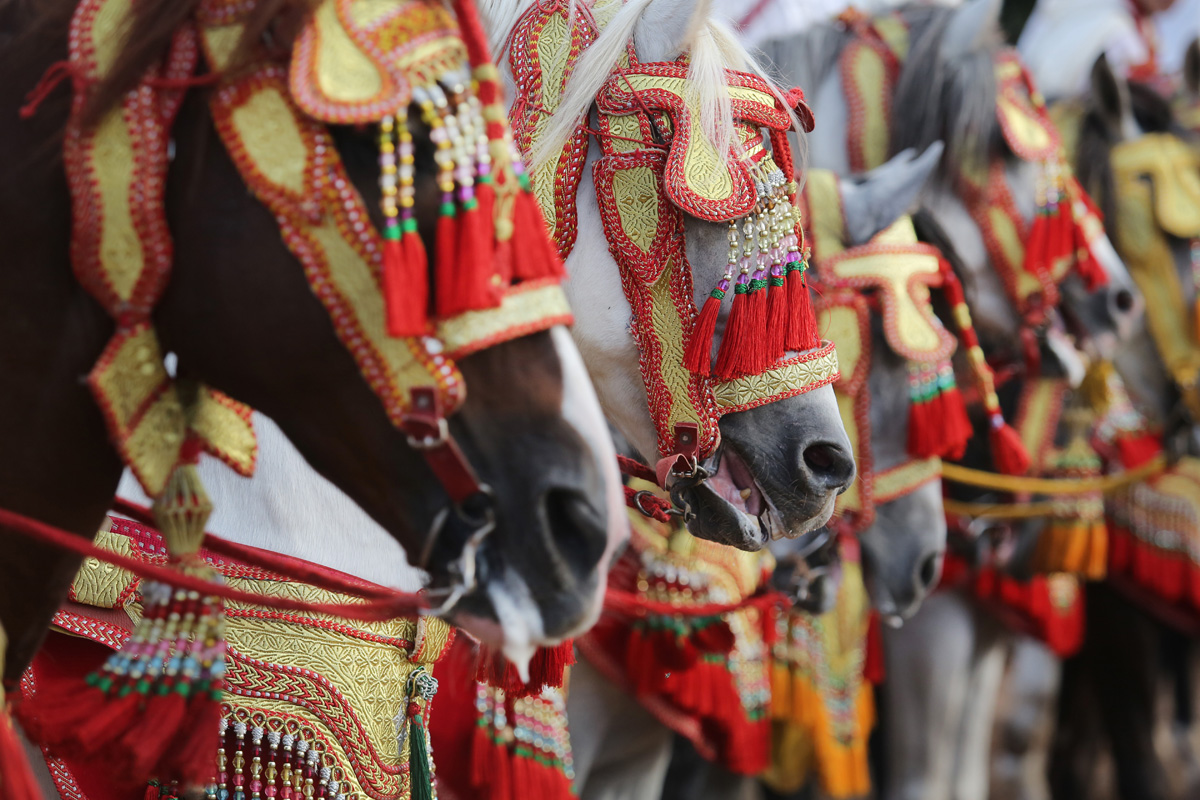 Press Release (Edited)
By making the 2014 edition of Salon du Cheval d'El Jadida all about equestrian tourism in Morocco, the Kingdom confirms its long tradition as a Land of Horses and begins to give structure to a fast-growing economic sector.
RAPIDLY DEVELOPING EQUESTRIAN TOURISM:
Equestrian tourism is a fast-growing activity in Morocco. Conscious of the richness of the Kingdom's ecosystem and remaining faithful to its mission to encourage the equine industry, Salon du Cheval has therefore chosen equestrian tourism as the theme for its 7th edition.
This sector is experiencing growth on an international scale. It is a promising sector for investment and an incredible driver for growth in the stud farming industry. The Kingdom possesses real assets in terms of geography, history and heritage that could serve as a springboard for this area of business.
From a geographical point of view, Morocco enjoys unique proximity to Europe. The country can also rely on a great diversity of landscapes and rich fauna (animals of a particular region). Morocco's historical heritage is also a great asset. The Kingdom boasts numerous emblematic sites and destinations that are famous the world over, such as the cities of Marrakesh, Tangier and Essaouira.
Finally, Morocco has a centuries-old equestrian tradition, widely recognised as one of the oldest in the world. Another highly valuable asset concerns the excellent aptitude of Moroccan horses and the impressive performances of Moroccan riders on an international scale, particularly in show jumping, dressage and reining.
Within the context of these missions to promote the equine industry and the chosen theme for the 7th edition, the Salon du Cheval will therefore organise a national symposium on equestrian tourism, to be attended by the principal national operators in the sector as well as certain foreign experts. The aim is to offer all these professionals a platform to reflect on the measures necessary to structure and develop this sector with such enormous potential.
SALON DU CHEVAL D'EL JADIDA, A MULTI-DIMENSIONAL EVENT:
Organised under the High Patronage of His Majesty King Mohammed VI, Salon du Cheval d'El Jadida has become an unmissable event for horse riders and those with a passion for the equestrian world. It will take place from 21 to 26 October 2014. This 7th edition offers a number of equestrian disciplines and a programme that combines discovery, events, national and international competitions and shows. These activities cover various aspects:
Socio-economic:
All equine professions are represented: saddlery, farriery, Tbourida rifle production, animal nutrition, veterinary medicine laboratories, equestrian leisure activity operators...
Cultural and scientific:
Salon du Cheval is also an opportunity to showcase the cultural, historical and scientific aspects of the equestrian heritage through exhibitions of paintings, works of art and manuscripts but also themed conferences.
ABOUT THE SALON:
Created on 20 May 2008 under the High Directive of His Majesty King Mohammed VI, the Association du Salon du Cheval is governed by the provisions of the dahir (decree) of public liberties. Since 2010, it has also been recognised as promoting the public interest by decree no. 2.10.505. The main missions of the Association du Salon du Cheval consist of encouraging all activities aimed at promoting horses for the economic and social development of the rural world, showcasing the kingdom's equestrian heritage and traditions, and striving to establish channels for cooperation, collaboration and communication with government institutions, the private sector, civil society and similar fairs in Morocco and abroad.
**READ HORSE TIMES' PREVIOUS COVERAGE ABOUT THE SALON
For more information, please contact the press department.
Siham Morchid/ +33 6 71 10 60 86
s.morchid@linka-int.com
Clémence Rebours / +33 6 60 57 76 43
--Ends--
Photo Gallery
Prev
1 of 7
Next