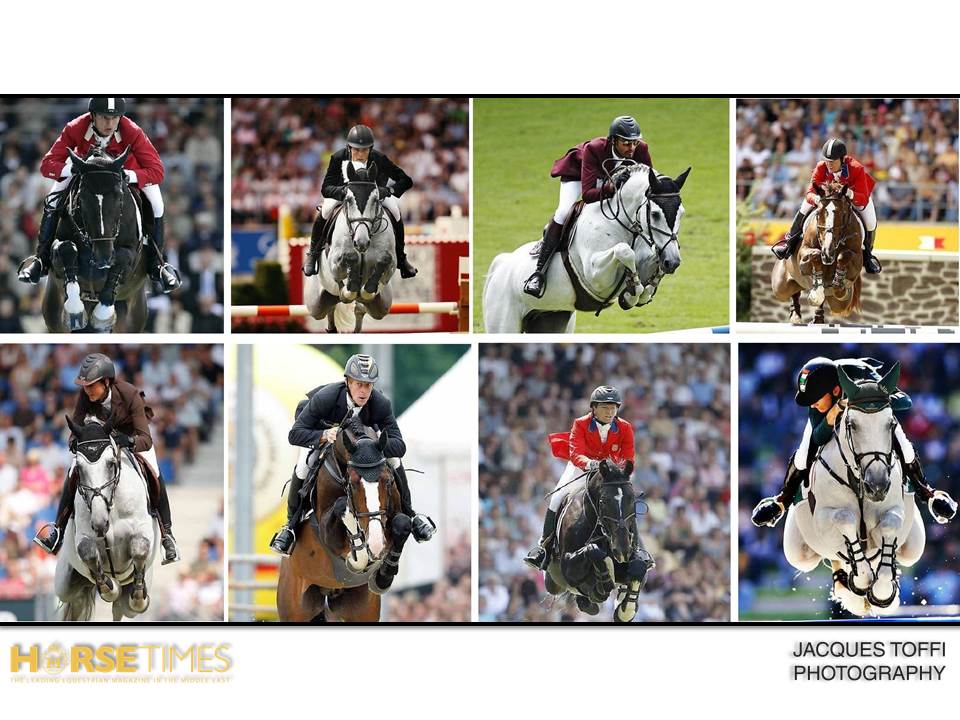 LONGINES SHOW JUMPING:
A total of 41 athletes from 19 countries have so far confirmed their participation in the Longines FEI World Cup™ Jumping Final 2014/2015, which will take place in Las Vegas, NV (USA), on 15-19 April.
The athletes that have already confirmed their participation are:
Defending Longines FEI World Cup™ Jumping Champion:
Daniel Deusser (GER)
Arab League (2 slots):
Bassem Hassan Mohammed (QAT)
Sheikh Ali Bin Khalid Al Thani (QAT)
New Zealand League (1 slot):
Katie Laurie (NZL)
South America South League (1 slot):
Joao Eduardo Ferreira de Carvalho (BRA)
Longines FEI World Cup™ Jumping Western European League (18 slots, plus 2 extra athletes):
Steve Guerdat (SUI)
Bertram Allen (IRL)
Kevin Staut (FRA)
Marco Kutscher (GER)
Marcus Ehning (GER)
Maikel van der Vleuten (NED)
Douglas Lindelöw (SWE)
Jur Vrieling (NED)
Hans-Dieter Dreher (GER)
Martin Fuchs (SUI)
Geir Gulliksen (NOR)
Pénélope Leprevost (FRA)
Sergio Alvarez Moya (ESP)
Luca Maria Moneta (ITA)
Pius Schwizer (SUI)
Gerco Schröder (NED)
Jos Verlooy (BEL)
Patrice Delaveau (FRA)
Extra athletes:
Lucy Davis (USA)
Edwina Tops-Alexander (AUS)
Central European League (3 slots):
Kristaps Neretnieks (LAT)
Vladimir Beletskiy (RUS)
Andis Varna (LAT)
North America East Coast League (7 slots):
Todd Minikus (USA)
Laura Kraut (USA)
Elizabeth Madden (USA)
Jack Towell (USA)
Kirsten Coe (USA)
McLain Ward (USA)
Katherina A. Dinan (USA)
North America West Coast League (3 slots):
Richard Fellers (USA)
Karl Cook (USA)
Vinton Karrasch (USA)
North America East and West Coast Leagues: Canada (1 slot):
Chris Sorensen (CAN)
North America East and West Coast Leagues: Mexico (2 slots):
Manuel Alvarez Ruigalindo (MEX)
Everardo Hegewisch Diaz Infante (MEX)
REEM ACRA DRESSAGE:
The following rider/horse combinations will be taking part in the event:
Western European League (9 slots):
Edward GAL/Glock's Undercover (NED)
Jessica VON BREDOW-WERNDL/Unee BB (GER)
Fabienne LÜTKEMEIER/D'Agostino (GER)
Isabell WERTH /Don Johnson/El Santo (GER)
Hans Peter MINDERHOUD/Glok's Flirt (NED)
Agnete KIRK THINGGAARD/Jojo (DEN)
Morgan BARBANCON MESTRE/Painted Black (ESP)
Paulinda FRIBERG/Di Lapponia T (SWE)
Malin HAMILTON/Fleetwood (SWE)
Central European League (2 slots):
Elena SIDNEVA /Romeo Star (RUS)
Tatiana DOROFEEVA /Kartsevo Upperville (RUS)
North American League (2 slots):
Steffen PETERS/Legolas 92 (USA)
Laura GRAVES /Verdades (USA)
Title Defender:
Charlotte DUJARDIN/Valegro (GBR)
FEI extra starting places:
Lars PETERSEN/Mariett (DEN)
Mikala GUNDERSEN/My Lady (DEN)
Inessa MERKULOVA/Mister X (RUS)
Terhi STEGARS /Axis TSF (FIN)
The Reem Acra FEI World Cup™ Dressage Final 2015 will begin on Thursday 16 April with the Grand Prix which is open to all 18 combinations. All participants who finish the Grand Prix with a score of at least 58% will continue to the Grand Prix Freestyle which will be held on Saturday 18 April.
To keep track of schedule and results, click HERE
To warch LIVE, click HERE
--Ends--