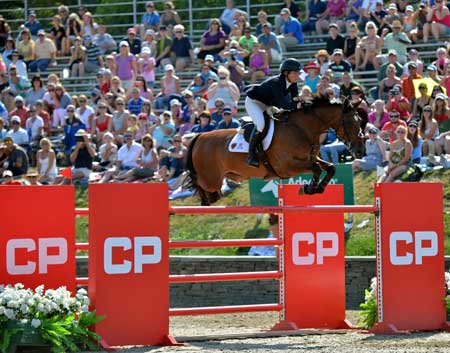 Via: The Equestrian News
Beezie Madden and Simon decisively won the HITS CP $1 Million FEI 5* Grand Prix today, taking home a $330,000 slice of the pie for the horse's owner Abigail Wexner. The duo was the only team with a clear round over Steve Stephens razor's edge of a course, and they did it in a speedy 88.320, the second-best time.
The only other pair to make it round without dropping a rail was Nikolaj Hein Ruus and Big Red, bringing home a check for $200,000 to owner Gerardo Pasquel of Mexico. The pair got dinged on time, trailing in at 94.650, earning two faults. There were six four-faulters that made the time but toppled bars over the 14-obstacle course.
Ruus and Big Red, the sixth to take the field, led for a substantial chunk of the class, leaving spectators and commentators alike to wonder if anyone would make a clean go. The answer didn't arrive until rider 33, with Madden and Simon giving a textbook tour, an accomplishment made all the more astounding in hindsight and the knowledge that no other team was up to the task.
At the time, though, with lots of heavy artillery lined up behind her, it didn't seem like it would shake out that way. Madden, who has 3 Olympic medals from three trips, was followed by three fellow Olympic riders: McLain Ward, Margie Engle and Daniel Bluman. Surely one of them would run the gauntlet unscathed. It was not to be. Madden has been competing Simon at the FEI level since 2013, about as long as Ward has been teamed with Rothchild. That two-year history proved a big advantage, as many newer teams gave it a good go, but fell short of the mark.
In Ward's case, he and Rothchild just got unlucky, dropping rail C on the course's second triple combination. They covered the course the quickest, in 84.500. Although there are inevitably those who found the lack of a jump-off disappointing, this writer would argue that the unbridled thrill of watching 41 riders, at varying experience levels, go around the course — many within striking distance of perfection, falling short by the merest sliver — was a show jumping experience in a class by itself.
One ride to rule the ring; the absence of a jump-off the cost of entry for witnessing the highest level of sport. Second-placed Huus and Big Red wound up the afternoon's big surprise. Ruus, who rides internationally under the flag of Denmark, is certainly well-respected, but coming in, he and the 10-year-old mare weren't really on anyone's radar. Whereas Ward is a two-time HITS $1 million champ, and Rothchild twice came in second.
Stephens, based in Palmetto, FL, designed the mind-blowing show-jumping course for the 2008 Olympics in Bejing, and he said today's event — his third $1 million course for HITS — as no less a challenge. "A million dollar course is very similar to an Olympic course — doable, but hard, with a bit more height and spread in places," Stephens told The Equestrian News.
Rails fell fairly evenly around the course, though the vertical-to-triple combination seemed was a gauntlet. The Purina jump, No. 2, was the only one that didn't come down. "If you look at the top 12, they only had 5 faults, even looking back over the history of the millions, that's a good class," commentator Mike Moran said at event's conclusion, putting it in perspective.
Madden becomes the first woman to win in the five-year history of HITS million-dollar competitions in Saugerties (although two mares — Quality Girl in 2014, and Sapphire in the inaugural 2010 outing, claim similar distinction). Quality Girl was able to carry her rider, Todd Minikus, to third, while 2012 winner Andre Thieme of Germany narrowly missed the money mark, placing 14th on Ramona de Flobeque with one rail and one time fault.
The prize funds are carved out in larger chunks this year, divided among only 12 riders, the result of HITS getting an FEI 5* certification for the event. In prior years, the monies were dispersed among the top 20.
HITS awarded an extraordinary $2 million in purse during this Championship Week in Saugerties, NY. The CP $1 Million Grand Prix was presented by Wells Fargo. Course chart and Top 15 results detailed below.
HITS On the Hudson $1 Million Grand Prix Winners
2015 Beezie Madden and Simon
2014 Todd Minikus and Quality Girl
2013 Nayel Nassar and Lordan
2012 McLain Ward and Antares F
2011 Andre Thieme and Aragon Rouet
2010 McLain Ward and Sapphire
--End--