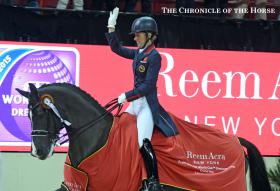 Via: chronofhorse
The 2018 Longines FEI World Cup Show Jumping Final and FEI World Cup Dressage Final will be held in Paris, marking the first occasion that the French capital has had the opportunity to stage the double indoor finals.
The decision was taken today, Nov. 10, by the FEI Bureau at its in-person meeting held in San Juan, Puerto Rico, at this year's FEI General Assembly.
Gothenburg, Sweden, and Las Vegas had also submitted bids to host the double finals. Las Vegas previously seemed poised to host the finals, but the bidding was reopened after issues with the venue's ring size.
"We are delighted that the FEI World Cup Finals will be taking place in the vibrant French capital," FEI Secretary General Sabrina Ibáñez (nee Zeender) said. "This will be the first time the dual finals have been held in Paris, although the finals were held separately in 1987 for jumping and 1991 for dressage, so the time is right to return to this wonderful international city.
"Last year France hosted the largest Alltech FEI World Equestrian Games to date, and we are confident that GL Events, the team that organized brilliant double finals in Lyon [France] in 2014, will take the 2018 Longines FEI World Cup [Show] Jumping Final and the FEI World Cup Dressage Final to a new level of excellence," she added.
The 2018 Longines FEI World Cup Show Jumping Final and the FEI World Cup Dressage Final will take place from April 10-15 at the AccorHotels Arena, formerly known as Paris Bercy Arena, located on the Boulevard de Bercy in central Paris.
The indoor arena, known for its pyramidal shape and walls covered with sloping lawn, is one of France's biggest concert venues and has hosted global megastars such as Madonna, Céline Dion, Tina Turner, Kylie Minogue and U2, among many others. Major sporting events, including the ATP Tour tennis tournament Paris Masters, have also been held at this venue.
END