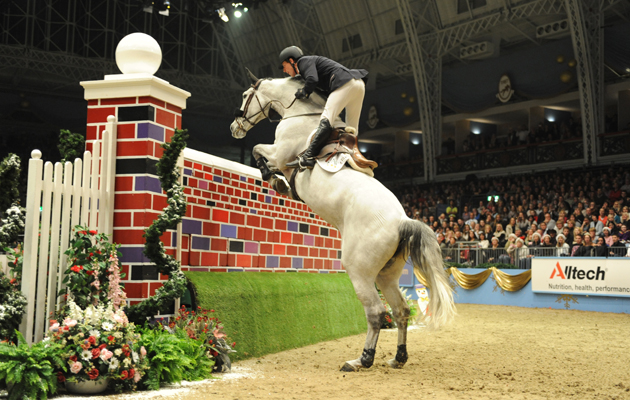 Via: horseandhound
The showjumping action kicks off at Olympia, the London International Horse Show, today (Thursday, 17 December).
The almighty red brick wall returns to the Christmas extravaganza tonight and is always popular with spectators. Twelve riders will line-up in the puissance this year — the highlight of the show's evening performance starting at 6pm.
Two Brits are among those taking on the wall, last year won by Irishman David Simpson and Richi Rich II. Guy Williams partners the 12-year-old grey gelding Depardieu van T Kiezelhof, while Laura Renwick brings the 14-year-gelding Roller Coaster to Olympia.
It is set to be a class of veteran horses, Irish rider Trevor Breen will ride the 16-year-old Loughnatousa WB. The pair were victorious when taking on the huge bank in this year's Hickstead Derby in June — can they also claim a puissance together?
Also hailing from the Emerald Isle, Olympic bronze medal-winner Cian O'Connor is partnering Britt Megahey's gelding Seapatrick Cruise Cavalier. The 13-year-old chestnut won the puissance at Dublin Horse Show in August, when ridden by Egyptian showjumper Sameh El Dahan. There is no doubt the gelding has plenty of scope — he soared 2m20 in Dublin to take the honours.
Sameh was offered the ride on "Socks" after he put out a plea on Facebook helping him to find a ride. The horse owner's son Chris Megahey responded to the call. At 17, the Co. Antrim rider was too young to compete in the class in Dublin, but was quick to offer his star horse to the rider.
Young showjumper Victoria Gulliksen — daughter of top Norwegian rider Guir — is attempting another puissance win aboard Grand Balou. The 23-year-old shared the spoils at the Horse of the Year Show in October with Belgian rider Karel Cox. Victoria took a dramatic tumble after the finish line when the gelding jumped left, knocking her forward out of the saddle.
The puissance will be shown on TV via the BBC red button and online at 9pm tonight (17 December).

END