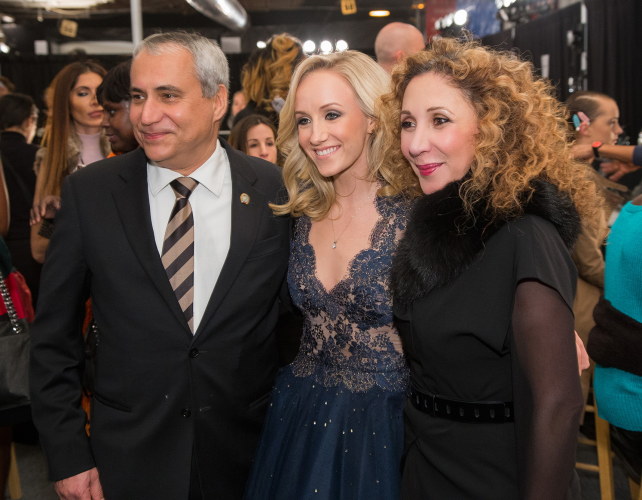 Via: FEI
Reem Acra, the internationally renowned fashion designer, has extended her partnership with the FEI World Cup™ Dressage Western European league and series Final for a further three-year term through to 2019.
Reem Acra signed an initial three-year agreement for the FEI World Cup™ Dressage Western European league in 2010, renewing for a further three-year term in 2013. The new agreement extends the partnership term to nine years.
The official signing ceremony for the new agreement, which starts with the new 2016/2017 season, took place backstage at the Reem Acra Fall 2016 ready-to-wear runway show during last month's New York Fashion Week.
The celebrity designer, who has dressed some of the world's most famous Hollywood A-listers, including Angelina Jolie and Halle Berry, and music icons Taylor Swift and Beyonce, also sponsors the FEI's annual Best Athlete award and has designed gowns for award winners Charlotte Dujardin and Adelinde Cornelissen.
"We have worked together with Reem Acra for six years now and are delighted to have this opportunity to strengthen our ties and take our partnership to another level, including the brand's continued involvement in the FEI Awards", said FEI President Ingmar de Vos, who flew to New York to sign the new agreement.
"It was fascinating to see Reem Acra in her own creative environment behind the scenes at New York Fashion Week. The focus on perfection is in many ways very similar to the work that our athletes go through behind the scenes to prepare for a winning Dressage test. This new chapter in our partnership will generate further global exposure of the Reem Acra brand, demonstrating the synergies between the brand and our sport, and attracting new audiences to Dressage."
"We have already established a very successful partnership with the FEI during our time as title sponsor of FEI World Cup Dressage and really enjoy being associated with this prestigious Dressage series", Reem Acra said. "I absolutely adore the grace and elegance of horses and the harmony of dressage resonates with me and with the style and elegance of my creative designs. I had no hesitation in extending our partnership to another level of commitment, to continue my association with equestrian sport and this world class event."
About Reem Acra
Reem Acra has dressed global icons of style for weddings, red carpet appearances and awards ceremonies. Her following includes established stars such as Sofia Vergara, Madonna, Jennifer Lopez, Selena Gomez and Taylor Swift as well as royal families around the world, including FEI Honorary President HRH Princess Haya.
Reem Acra's ready-to-wear and bridal collections are carried by some of the world's most exclusive retailers, including Bergdorf Goodman and Saks Fifth Avenue in the United States and have an international presence in over two dozen countries at luxury retail outlets in Europe, Asia and the Middle East.
Reem Acra is a member of the Council of Fashion Designers of America and serves on the Board of the Dubai Design and Fashion Council.
About Fédération Equestre Internationale (FEI)
The FEI is the world governing body for horse sport recognised by the International Olympic Committee (IOC) and was founded in 1921. Equestrian sport has been part of the Olympic movement since the 1912 Games in Stockholm.
The FEI is the sole controlling authority for all international events in the Olympic sports of Jumping, Dressage and Eventing, as well as Driving, Endurance, Vaulting and Reining.
The FEI became one of the first international sports governing bodies to govern and regulate global para sport alongside its seven able-bodied disciplines when Para-Equestrian Dressage joined its ranks in 2006. The FEI now governs all international competitions for Para-Equestrian Dressage and Para-Driving.
Photo: FEI President Ingmar De Vos with former Olympic gymnast Nastia Liukin dressed by Reem Acra (right) at New York Fashion Week
--Ends--