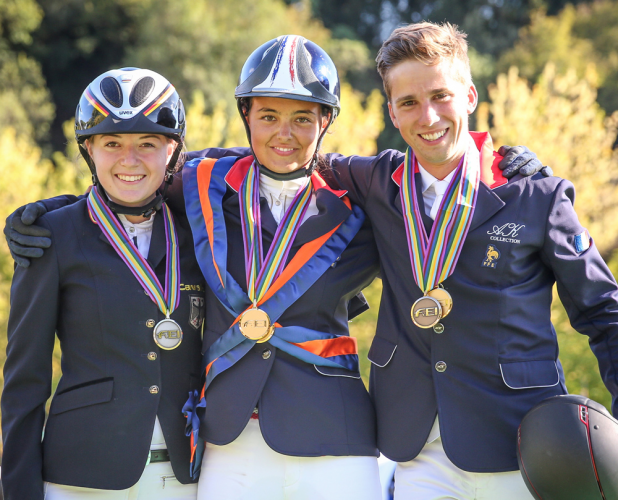 Via: FEI
It was double-gold for both Germany and France at the FEI European Eventing Championships for Juniors and Young Riders 2016 which drew to a close at the Military Equestrian Centre in Montelibretti, Italy. Athletes from 20 nations battled it out for the 12 medals on offer, and it was a fascinating contest in both categories, with many rising talents of the sport demonstrating their exciting potential.
As German Eventing super-star and double Olympic champion, Michael Jung, said before the event began, "it is at these championships that young athletes get their first taste of team competition. They learn to perform under greater pressure and with increased responsibilities. Team members need to support each other and fight together to get on the podium". And that is exactly what they did. Traditionally the super-power at these championships has been Great Britain, with 32 Junior and 32 Young Rider titles to their credit down the years. However this time around the gold eluded them, and they had to settle for team bronze in the Junior division.
Juniors
Germany led both the Junior and Young Rider standings after Dressage, and they held on for the win in the Junior category.
The leading Junior score of 33.40 posted by Jerome Robine and Guccimo R was backed up by second place for Anais Neumann and Pumuckel E, and with last year's individual champion Johanna Zantop in sixth with FBW Santana's Boy and Emma Brussau only two places further adrift with Donnerstag the Germans were more than 12 penalty points ahead of the French in second and more than 20 ahead of the British in third going into cross-country day.
Robine, riding a home-bred horse he knows very well, said he expected the course would "not be too hard, I think in previous years it maybe was a bit more technical but the time is tight and it won't be easy to get away fast from the fences and that will be the difficulty on this course I think."
Bearing that in mind he and all his team-mates kicked on around Giuseppe della Chiesa's course to get home well within the time, as did their nearest rivals from France who also held firm for second place despite two stops at fence 12 for their leading contenders, Romain Sans and Enzo van'T Vennehof who were lying third after Dressage. Taking the remaining French scores into account however their scoreline of 131.30 still left them just under three penalty points ahead of the British who were all impressively clear.
Jumping
The course however took quite a toll, 35 of the 83 starters penalised at various points around the track and only 65 lining out in yesterday's final Jumping phase in which Robine's luck deserted him, 12 faults dropping him to seventh place. His misfortune however simply opened the window of opportunity for team-mate Neumann whose foot-perfect round with Pumuckel E would clinch the individual title. And, despite five faults from Zantop, when Brussau was also clear then the final tally of 126.60 was plenty good enough for team gold for the defending champions from Germany.
The French were even more efficent, Romain, Heloise Le Guern (Orage de Longuenee Ene HN), Julie Simonet (Sursumcord Or) and Victor Levecque (Phunambule des Auges) adding nothing to their cross-country finishing score while the British held on for the bronze despite an additional nine faults. Only Felicity Collins (RSH Contend Or) kept a clean sheet in the showjumping arena, Isabelle Upton (Eros DHI) picking up two time faults, Phoebe Locke (Union Fortunus) collecting four faults and Richard Coney (Kananaskis) accumulating five for a final British scoreline of 143.50. Team Ireland finished just off the podium in fourth place, almost 15 penalty points further adrift.
In the Individual championship it was 18-year-old Levecque, double-gold medallist at the FEI European Pony Championships in Millstreet, Ireland two years ago and double-silver medallist in the Junior Championships in 2015, who claimed silver again for France. The top six riders all finished on their Dressage scores, and individual bronze went to Sofia Sjoborg (DHI Mighty Dwight) who competed as an individual for The Netherlands. Lying fifth after Dressage, she moved up to fourth after her clear cross-country run and was again foot-perfect in the final phase, so her finishing score of 41.30 left her just over one penalty point ahead of Germany's Emma Brussau who missed out on the podium.
Young Riders
Team Germany led the Young Riders leaderboard after both Dressage and Cross-Country, but they were overtaken by the French in yesterday's final showjumping phase.
It was a close-fought affair in the early stages, with only four penalty points separating the two sides after Dressage, while the British were less than a point further behind in third ahead of the host nation in fourth. Clear rounds proved very hard to get on cross-country day, when only three were posted from a starting field of 58 horse-and-rider combinations. But British chances looked good when their pathfinder, Sam Ecroyd (Opera House), posted one of these. They lost their grip on bronze medal spot however when both India Wishart (The Masters Harry) and Elia Hitchman (Rocky Rockstar) collected time penalties and then last year's individual champion, Will Furlong (Livingstone) retired. And when Ecroyd's horse was withdrawn on the final day their chances were further dashed and they had to settle for fifth spot in the final analysis.
Meanwhile however, despite 15 time faults for Flora Reemtsma (Ikarosz), the Germans maintained their lead when Marie-Sophie Arnold (Remember Me 74) completed the track clear and inside the time while 2015 Junior team gold and individual bronze medallist, Hanna Knuppel, collected just 0.4 time for time and Tina Kruger (Dolce Mia) picked up 1.20 time penalties. The German scoreline now stood at 141.90 giving them a generous advantage over the French in silver medal spot on 152.30 while the British decline saw the Italians move up to bronze position going into the final day. Of the 58 cross-country starters only 42 lined out in the Jumping phase.
Slip
The withdrawal of Reemtsma's Ikarosz left Team Germany with just three scores to count yesterday, and when Kruger returned with 16 faults to add, Arnold collected 12 and Knuppel added eight then their final total of 177.90 saw them slip to silver medal spot. Because despite the loss of their second-line partnership of Thais Meheust and Quamilha who were lying eighth after a strong performance in the first two phases but who withdrew after cross-country, a showjumping clear from Marie Charlotte Fuss (Sillas de la Nee), a single error for Alexis Goury (Trompe L'Oeil D'Emery) and an eight-fault result for Victor Burtin (Early van Ter Nieuwbeke) saw the French round up their total at 169.00 for victory.
And the Italians were well-pleased when taking team bronze when Ludovica Manzoli (Pin Up de Mai), Luca Mezzaroba (Laomaco), Giulio Gugielmi (Mister Brightside) and Fosco Girardi (Feldheger) posted 207.20 which left them almost 28 points clear of Team Belgium in fourth place. This was Italy's first Young Rider medal since 2008, and Chef d'Equipe, Alberto Casolari, said "I am really proud of all our riders, these four and the eight individuals. Italian Eventing proved it can be competitive."
Pascal Forabosco, Chef d'Equipe for the gold medallists from France said, "this medal is the result of a year of hard work. I would like to thank the Italian Equestrian Federation and the Military Equestrian Centre for this fantastic event."
FISE (Italian NF) President and showjumping legend Vittorio Orlandi was also delighted with how the event went and has big ambitions for the future of his riders. "Italy proved once again that it is capable of organising important events like this one, and do it well. As far as the team is concerned I am proud of them. In my role as President of FISE I promise I will support Eventing. My dream is to see my riders with gold at the next Olympics!" he said.
Junior Team Championship: GOLD - Germany 126.60: Donnerstag 20 (Emma Brussau) 42.70, FBW Santana's Boy (Johanna Zantop) 46.90, Guccimo R (Jerome Robine) 45.40, Pumuckel E (Anais Neumann) 38.50; SILVER - France 131.30: Enzo Van't Vennehof (Romain Sans) 119.10, Orage de Longuenee Ene HN (Heloise L Guern) 45.30; Sursumcord Or (Julie Simonet) 45.20, Phunambule des Auges (Victor Levecque) 40.80; BRONZE - Great Britain 143.50: Eros DHI (Isabelle Upton) 52.20, Union Fortunus (Phoebe Locke) 47.50, Kananaskis (Richard Coney) 49.90, RSH Contend Or (Felicity Collins) 46.10.
Junior Individual Championship: GOLD - Pumuckel E (Anais Neumann) GER 38.50; SILVER - Phunambule des Auges (Victor Levecque) 40.80 FRA; BRONZE - DHI Mighty Dwight (Sofia Sjoborg) NED 41.30.
Young Riders Team Championship: GOLD - France 169.00: Early van Ter Nieuwbeke (Victor Burtin) 63.30, Quamilha (Thais Meheust) Wdn, Trompe L'Oeil D'Emery (Alexis Goury) 53.90, Sillas de la Nee (Marie Charlotte Fuss) 51.80; SILVER - Germany 177.90: Dolce Mia (Tina Kruger) 68.10, Ikarosz (Flora Reemtsma) Wdn, Carismo 22 (Hanna Knuppel) 55.40, Remember Me 74 (Marie-Sophie Arnold) 54.40; BRONZE - Italy 207.20: Pin Up De Mai (Ludovica Manzoli) 66.10, Laomaco (Luca Mezzaroba) 88.00, Mister Brightside (Giulio Guglielmi) 68.50, Feldheger (Fosco Girardi) 72.60.
Young Riders Individual Championship: GOLD - Sillas de la Nee (Marie Charlotte Fuss) FRA 51.80; SILVER - First Flight's Beauty (Hella Meise) GER 53.70; BRONZE - Trompe L'Oeil D'Emery (Alexis Goury) FRA 53.90.
Full results Here
Picture: An abundance of medals! On the Young Riders podium at the FEI European Eventing Championships for Juniors and Young Riders 2016 in Montelibretti (ITA): (L to R) individual silver medallist Hella Meise (GER), individual and team gold medallist Marie Charlotte Fuss (FRA) and individual bronze and team gold medallist Alexis Goury (FRA). (Massimo Argenziano/FEI)
--Ends--