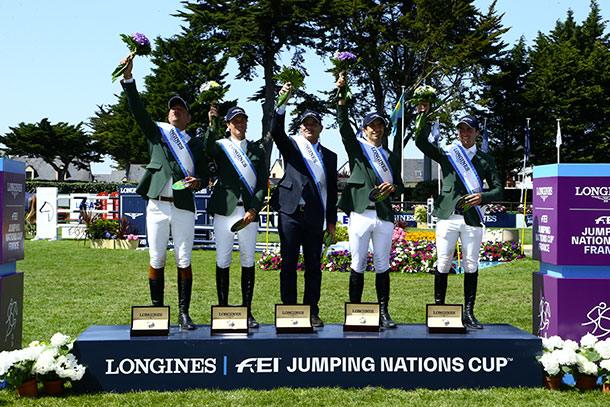 Nations Cup of La Baule: Historical victory for Brazil
Via La Baule
The Brazilian team was not among the favorites, but it dominated this edition 2018 of the nations Cup head and shoulders! Composed of Luiz Felipe de Azevedo Filho (Chaccomo), Felipe Amaral (Germanico T), Yuri Mansur (Vitiki) and Pedro Veniss (Quabri de l'Isle), the team registered for the very first time Brazil on the record of the Nations Cup.

In the first round, the Brazilians delivered a nearly flawless performance, with a total score of 2 points. The Netherlands, who had in their team the world n°1 Harrie Smolders (Don VHP Z), were not far, with 4 points. Spain completed the first round with 4 points as well. Switzerland, led by the Olympic champion Steve Guerdat, totalized 5 points. France finished the first round with 8 points, in spite of Simon Delestre and Hermès Ryan's clear round.

In the second round, Brazil did not tremble et resisted the pressure from Netherlands, who signed two clear rounds from Harrie Smolders and Marc Houtzager (Sterrehof's Calimero). The Swiss team could also rely on two clear rounds with Alain Jufer (Rahmannshof Tic Tac) and Steve Guerdat (Hannah). With only one clear round (Manuel Fernandez Saro and Cannavaro 9), Spain saw the podium fade away. For France, Patrice Delaveau's clear round with Aquila HDC (winner of the Grand Prix of the city of La Baule on Friday) has not been good enough, and the French finish 7th with a score of 20 points.

Brazil fully enjoyed its victory in front of a packed grand stand ; the public showed them their strong support with enthusiasm. Netherlands place 2nd, Switzerland ends up 3rd.


Results of the class: www.labaule-cheval.com/epreuve/09/



Crédit photo © PSV – Jean Morel