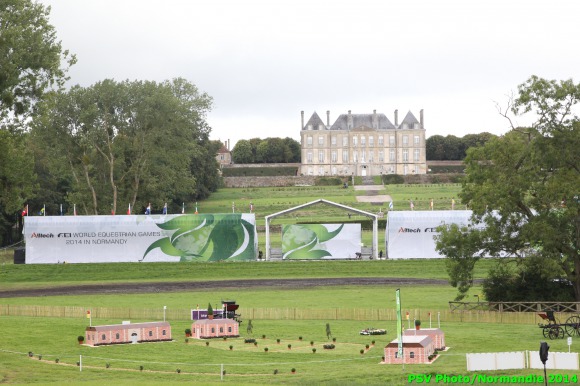 The Cross-Country in the Eventing competition is to play out in the remarkable setting of Le Pin National Stud in France's Orne region. The Organising Committee, local groups and authorities have been preparing for this major Games meeting for a long while.
Due to August's exceptional weather conditions, appropriate measures have been taken and various means have been reinforced to ensure that the public are accommodated in the best possible conditions.
It is particularly important to arrive on site early: the competition has been brought forward to 10:00am (instead of the original 10:30am), and car parks are open from 06:30am.
The Organising Committee and the local authorities are urging spectators to participate in car sharing schemes to limit the number of vehicles. Moreover, there are still places available on the TER (local trains) specially chartered by the Lower Normandy Region, that run from Caen.
TRAFFIC SCHEME:
A special traffic scheme will be active from 06:00am to 20:00pm.
From the A28 and A88 motorways, spectators are invited to follow the compulsory exits indicated by the temporary road signs:
A88: exit 13, Argentan
A28: exit 16, Gacé
On the A88, exit 15 "Mortrée" is reserved solely for accredited vehicles (officials, French federations and the organisation).
From Bourg St Léonard, Exmes, Nonan le Pin and Almenèches, filter points have been organised by the French police (over 100 agents mobilised) to spread the flow of traffic and keep it running smoothly right across the network.
Some one-way systems have been implemented. Spectators and residents are requested to be particularly vigilant with regards to new no-entry streets put in place for the occasion.
CAR PARK:
Over 20,000 free parking spaces have been placed at the disposal of the general public. They are spread across 60 hectares of meadows in 2 large zones:
West zone: car parks P1 to P6,
East zone: car parks P13 to P18.
From this point, access to the competition site is solely on foot.
Spectator car parks are open from 06:30am on Saturday 30 August.
PUBLIC RECEPTION:
Picnics are possible and 20 food trucks and 10 refreshment stalls are available to spectators right across the site.
Maps will be distributed free of charge. They can be collected from the information kiosks.
Given the exceptional weather conditions, it is recommended that spectators come appropriately kitted out (notably wellington boots or walking shoes).
PUBLIC TRANSPORT:
Orne Departmental Council is rallying together all its coaches and drivers for the Cross-Country day (Saturday 30 August), with:
A system of shuttles between Argentan and Le Pin National Stud, equating to 18 coaches will transport 1,000 to 2,000 spectators.
Transport right across the Orne region from the main towns, equating to 32 coaches for 1,600 visitors.
Registration for these journeys by coach is now closed. 3,000 to 4,000 people will be able to benefit from this service.
The Lower Normandy Region, in partnership with the SNCF rail network, is putting in place two special TERs (local trains) between Caen and Argentan on Saturday 30 August for those with tickets for the Cross-Country event.
Several thousand people will benefit from this offer, not to mention the regular TER (local train) users in the region and SNCF Corail from Paris.
There are seats remaining: TER (local train) tariff: €12/person return (€6 return for children).
These train tickets can only be booked via the online SNCF shop SNCF
© PSV Photos
--Ends--