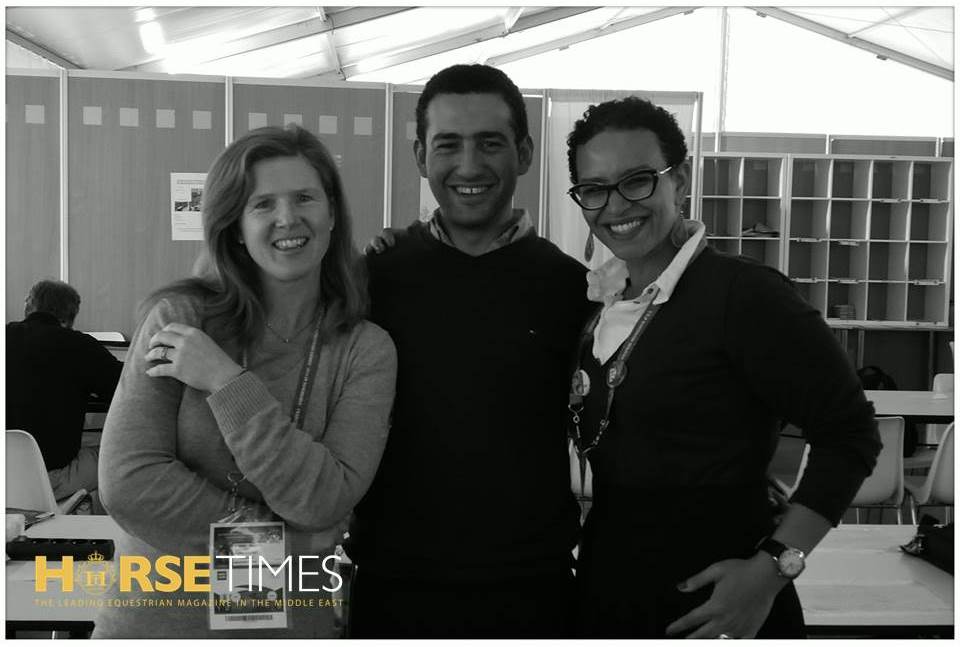 We finally ran into Joanne Sloan Allen and Sameh El Dahan who is in Caen representing the Egyptian Show Jumping Team at the Alltech FEI World Equestrian Games 2014 in Normandy alongside team members Nayel/Nael Nassar, Karim El Zoghby, Abdel Said, and Mohamed Sadek.
Sam arrived to Caen with his horse Suma's Zorro last Sunday and has gone through all the preparations and routine of settling down and getting acquainted with the location. Read about their adventures in Joanne's blog HERE
Yesterday night the Egyptian Team went through a training session at the main arena inside D'Ornano Stadium and also did so this morning.
Sam stated, "Zorro arrived well and in good condition. She had a nice stretch this morning in the training session's small and fair course, and got a good feel of the footing which is hard and not too deep. We are excited in a good way, and quite relaxed, and the whole team is in good spirits."
Sam and Joanne continued to wax lyrical about Zorro and how she simply "thinks of herself as a princess". They mentioned that during their participation in Spruce Meadows over the summer, after he and his other horse WKD Pepperpot were placed 4th in the 5* of Spruce Meadows, Zorro felt a tad jealous and went on the next day to win the ATCO Structures & Logistics Cup.
He continued, "It is because of her strong willed personality, Zorro possesses lots of scope and will enjoy riding here at the Games."
Next week, Sam and Joanne will head off to Canada to participate in the Masters at Spruce Meadows.
To see Sam's results, click HERE. And to read more about Sameh and Joanne, click HERE
We wish them all the best of luck!
Photo: Sam and Joanne with our Managing Editor Nada H. Abdelmoniem at D'Ornano Stadium
Photo: Sam and Joanne with Steven Wilde, Equestrian Sport Commentator at D'Ornano Stadium