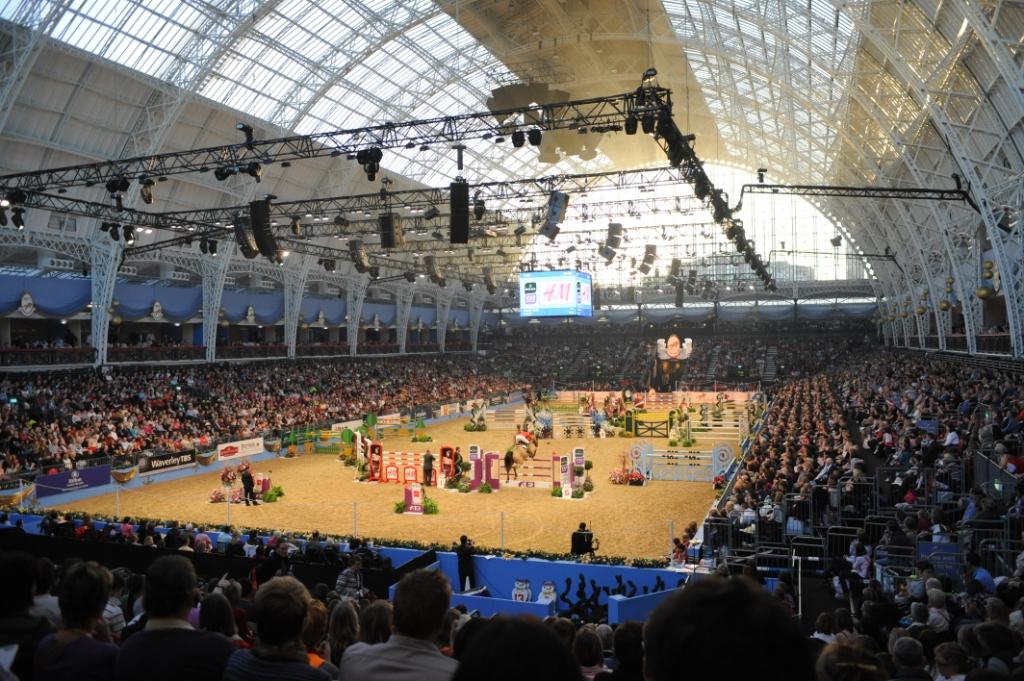 Press Release: 30 October 2014
This year's Olympia, The London International Horse Show takes place from 16-22 December, 2014 and boasts a star-studded equine line up, including a Medal Parade from the GBR Equestrian Teams, an appearance from record breaking racehorse, Kauto Star and Dressage Masterclasses from British riders, Michael Eilberg and Laura Tomlinson.
Acting as an appetiser to the Reem Acra FEI World Cup™ Dressage Grand Prix supported by Horse & Hound on the opening night – where Charlotte Dujardin and Valegro are expected to compete – will be former record breaking racehorse, Kauto Star, who has since been retrained as a dressage horse by Laura Collett. His display of his new found skills will be followed by a Masterclass from World Equestrian Games Team Dressage Silver Medallist, Michael Eilberg, riding one of the most exciting horses on the circuit, Woodlander Farouche. Talking the Olympia crowd through the Masterclass will be former European Team Silver Medallist and Michael's father, Ferdi Eilberg.
Spectators on Wednesday evening's performance will be treated to a Masterclass from one of Britain's leading dressage riders, Laura Tomlinson. The Olympic Team Gold Medallist, who celebrated the retirement of her London 2012 Team Gold winning horse, Mistral Højris with a special display at Olympia last year, will return this year riding one of her up and coming horses, 10-year-old mare, Unique.
Tomlinson's Masterclass will be followed by a special Medal Parade from the GBR Equestrian Teams who will be celebrating their outstanding achievements of the year. Great Britain finished at the top of the medal table at the Alltech FEI World Equestrian Games after clinching a total of seven golds at the Games. Elsewhere GBR Equestrian Youth Teams have demonstrated their up-and-coming talent by winning 14 medals this year, whilst other senior teams have also enjoyed European success, helping to bring the GBR equestrian medal tally to 31. The GBR Equestrian Team medal winners will parade in the Olympia Great Hall during the Wednesday evening performance to share the celebrations of their incredible year with the Olympia audience.
On Thursday 18 December, Individual Women's World Vaulting Champion, Joanne Eccles will perform a Vaulting Display with her sister Hannah Eccles in the Olympia Arena. Their demonstration will undoubtedly leave the crowd in collective awe as they perform leaps, handstands, tumbles and various other acrobatic moves upon their horse, whilst they canter round. Together the duo took Bronze in the Pas de Deux Test at the World Equestrian Games and the sisters will perform their Bronze Medal winning routine on Thursday's matinee show. Joanne Eccles will then perform her World Equestrian Games Gold Medal winning routine in the evening performance.
Show Director, Simon Brooks-Ward said: "British Equestrianism has a lot to celebrate right now and what better way to mark all these great achievements than at the world's biggest equestrian party. We are thrilled to have so many stars – both human and equine – appearing at this year's Show. I think it is going to be the biggest and best Olympia yet."
For more information and to purchase tickets online visit the website at www.olympiahorseshow.com
Or telephone the box office on 0871 230 5580.
--Ends--
OLYMPIA 2014 HIGHLIGHTS:
Tuesday 16 December
Reem Acra FEI World Cup™ Dressage Leg, supported by Horse & Hound - Grand Prix
Wednesday 17 December
Reem Acra FEI World Cup™ Dressage Leg, supported by Horse & Hound – Freestyle to Music
Thursday 18 December
Alltech Olympia Christmas Puissance
Friday 19 December
FEI World Cup™ Extreme Driving Leg presented by Dodson & Horrell
Saturday 20 December
FEI World Cup™ Extreme Driving Leg Final presented by Dodson & Horrell
Sunday 21 December
Longines FEI World Cup™ Jumping leg presented by H&M
Monday 22 December
The Olympia Grand Prix
Visit the website HERE for a full programme of events.
MEDIA ACCREDITATION
To apply for media accreditation, please click HERE
For more information please contact Hannah Rawdon-Mogg E: hannah@revolutionsports.co.uk
Or T: +44 (0)207 592 1207.
NOTES TO EDITORS
Olympia, The London International Horse Show
The first international horse show took place in the Olympia halls in 1907. Olympia, The London International Horse Show, the event we see today, was started by Raymond Brooks-Ward in 1971. This year's show takes place on 16-22 December 2014 in the Olympia Exhibition Hall, located in West Kensington London. The show will play host to a packed timetable of all things equestrian and is expected to welcome over 90,000 visitors. It is regarded as one of Europe's oldest and most prestigious equine competitions. The show mixes top class equestrian action, including FEI World Cup™ Jumping, Dressage and Driving with family entertainment, such as the Osborne Refrigerators Shetland Pony Grand National which raises money for Great Ormond Street Hospital and The Kennel Club Dog Agility. The show's official charity for 2014 is The Injured Jockeys Fund. There will be a special class in aid of the Injured Jockeys Fund on Friday 19 December called the Markel Champions Challenge for the Injured Jockeys Fund.
Photo © Kit Houghton/HPower