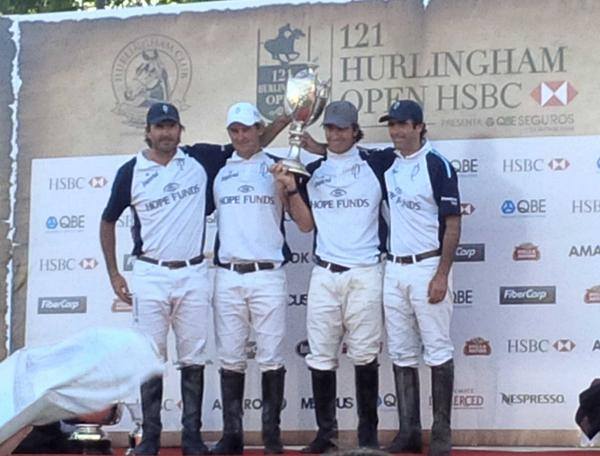 Via International Polo Club Palm Beach
La Dolfina (Adolfo Cambiaso, Pelon Stirling, Pablo MacDonough and Juan Martin Nero) outscored Ellerstina (Facundo Pieres, Gonzalito Pieres, Mariano Aguerre and Nico Pieres) 5-1 in the opening chukker on their way to an 18-15 win yesterday Saturday afternoon in the final of the Hurlingham Open.

In a foul riddled opening chukker La Dolfina took advantage of a number of Ellerstina miscues as Adolfo Cambiaso scored three of his four first chukker goals on penalty shots. Pablo MacDonough added the team's fifth goal with Facundo Pieres managing to put a single Ellerstina goal on the scoreboard on a penalty shot for the 5-1 score.

In this way, La Dolfina got its sixth consecutive trophy between 2013 and 2014 and stretched its unbeaten streak to 20 matches. In addition, to achieve the title in Palermo, will win his second Triple Crown of the AAP.

La Dolfina continued to dominate play throughout the first half, adding three more goals in the second period. Ellerstina scored twice but trailed, 8-3.The two teams exchanged goals in the third and fourth, each adding a goal in the third and two goals apiece in the fourth. As the two teams left the field at the end of the fourth chukker, it was La Dolfina with a five goals lead, 11-6.

Cambiaso continued to display the expert mallet work that made him the top rated player in the game today as the La Dolfina lead grew to six goals, 14-8 in the fifth. Ellerstina had their most productive offensive chukker in the sixth, outscoring La Dolfina 4-1 and cutting the lead to a manageable three goals, 15-12.

Facundo Pieres scored in the seventh to cut the La Dolfina lead to two goals, 15-13, but could get no closer. Two scoring opportunities for Ellerstina were rebuffed followed by goals from Juan Martin Nero who put La Dolfina in front by four goals, 17-13.

Ellerstina scored twice in the eighth while limiting La Dolfina to a single goal, but the damage had been done chukkers before. La Dolfina rode on to register the 18-15 win and move a step closer to securing their second consecutive Triple Crown sweep in two years.

Cambiaso led all scoring with eleven goals (six on penalty conversions). Nero scored four times; Pablo Macdonough added two goals and Pelon Stirling scored once in the win. Juan Martin Nero was named MVP while Open Chequera, owned and played by Facundo Pieres, was named Best Playing Pony in the final.

Both La Dolfina and Ellerstina will have a short rest with both competing this coming weekend.

On Saturday, November 15 La Dolfina will face Miramar followed by a game that will feature La Aguada and Magual. On Saturday, November 16 Ellerstina will meet Chapaleufu followed by a game between La Aguada/Las Monjitas and Alegria.
--Ends--