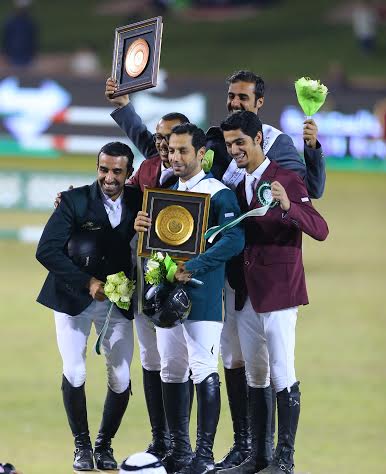 Press release (Edited by HT)
Under the patronage of the Custodian of the Two Holy Mosques King Abdullah bin Abdul Aziz Al Saud, The third King Abdullah Show Jumping Festival shall commence at Nofa Equestrian Resort (85 Km west of Riyadh) on the 27th of November, 2014.
The Organising Committee (OC) chaired by HRH Prince Abdullah bin Miteb bin Abdulaziz Al Saud Al Saud, is finalising preparations to the launch of the most prestigious show jumping event in the Kingdom. The King Abdullah Show Jumping Festival is a culmination of three championships (Lil Watan, GCC and International) where local, regional and international equestrians compete for over 3,000,000 Saudi Riyals in prize money.
The Festival is not another sporting event but a junction where culture, art, sports, and heritage are celebrated in harmony. The OC thrives for the Festival to be a family gateway by offering an array of activities including, but not limited to, a Traditional and Equestrian Village, a Kids and Celebrity Zone, and Raffle Draws, "A Festival for all equestrian enthusiasts of all ages to enjoy".
HRH Prince Abdullah praised the support of the Minister of the National Guard, HRH Prince Miteb bin Abdullah bin Abdulaziz Al Saud for the major role he played in transforming a dream into reality. In turn, HRH Prince Miteb also valued the support of the Saudi Equestrian Federation and the tireless efforts of HRH Prince Abdullah who played a pivotal role in the success of the previous Festivals and establishing a cornerstone for this year's Festival and beyond.
HRH Prince Abdullah treasured the participation of the business sector by sponsoring the event, such as the Bin Laden Group, AL Jazirah Vehicles, Ahmad Al Mugairin Group to name a few. Adding that Ahmad Al Mugairin Group's efforts have contributed directly to the success of the Festival and assured its endurance for many years to follow, "A partnership that aspires to serve the Saudi youth and the equestrian Sports"
HRH Prince Abdullah also expressed his full confidence in domestic and Gulf media channels, print and electronic newspapers, TV, radio, and modern means of communication to step up and play an assertive role in the coverage of the Festival to establish their part in increasing the exposure of the equestrian sports, evidenced by the increased request by media companies for entry passes to cover this year's Festival.
Attendance is by Registration only at http://kasjf.com and tickets may be collected at arrival on scheduled competition days.
Photo 1: Grand Prix winners of the 2013 GCC Festival >> Kamal Bahamdan, Bassem Mohammed, HRH Prince Abdullah bin Miteb and Sheikh Ali Al Thani
Photo 2: Their Royal Highnesses Prince Khaled bin Bandar, Prince Sultan bin Mohamed, and Prince Miteb Al Saud.
--Ends--