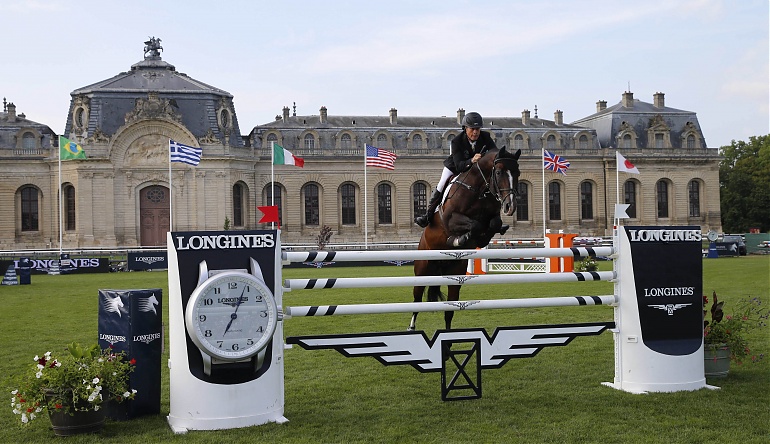 Via: Global Champions Tour
Release date: 13/07/2015
Photo: Stefano Grasso / LGCT
Yet another all-star line-up of the world's best show jumpers from nineteen different countries around the world will compete at the highly-anticipated 10th leg of the 2015 Longines Global Champions Tour of Chantilly, from 17th - 19th July. On fantastic form and charging his way up the LGCT Ranking following his recent win in Cascais, Estoril, World No1 Scott Brash (GBR) is hot on the heels of current ranking leader, Luciana Diniz (POR), closing the gap to just 32 points behind. With both riders attending this leg of the Tour, and Scott within reach of the leadership, it's set to be an exciting event as we move into the final half of the season.
Ben Maher (GBR), Maikel van der Vleuten (NED), Jessica Springsteen (USA), Bertram Allen (IRL), Sheikh Ali Bin Khalid Al Thani (QAT), Eric Lamaze (CAN), Edwina Tops-Alexander​ (AUS) and Rolf-Göran Bengtsson (SWE) will also be battling to better their positions as the Championship gallops towards it's dramatic climax. It is former Longines Global Champions Tour Champion Scott Brash who will be the focus of attention as we return to France, and he will be looking to put in another fantastic performance following his wins so far in Miami, Monaco and Cascais, Estoril. But Luciana Diniz looks determined to hold onto the lead, and with a difference of just 32 points between them, there's everything to play for as she looks to maintain her consistency in the Tour.
Back on French ground in the elegant town of Chantilly, the 10th leg of the Tour will get underway in a place famous for its impressive, beautiful château, it's premier racetrack and, of course, Chantilly cream. But it is Chantilly's reputation as France's 'Capital of the Horse' which makes it the perfect venue for a Longines Global Champions Tour event. Between the elite level show jumping competitions, visitors can enjoy the Musée Vivant du Cheval (Living Horse Museum), created by Yves Bienaimé in 1982, where the equestrian world of the past and present is brought to life in visually stunning equestrian shows and dressage demonstrations. Then it's back to the picturesque arena for a stunning display of horsemanship from the world's best riders.
France will once more showcase some of it's finest riders, with Cannes Grand Prix winner Pénélope Leprevost in attendance alongside Simon Delestre (FRA), Philippe Rozier (FRA), Roger-Yves Bost (FRA) and Patrice Delaveau (FRA) to name a few, and there will be a secondary battle for honours as the stars of France compete in front of their home crowd once more.

For the current 5* rider listing for Longines GCT Chantilly, please click here. For all the latest information on our star riders competing in Chantilly and throughout the rest of the 2015 season, follow us on Facebook, Twitter, Instagram or YouTube. Don't forget you can watch all of the action live via our website on GCT TV, our online streaming service, and the Grand Prix will be broadcast live on Eurosport, Class Horse TV, beIN Sports and Equidia Life.
--End--