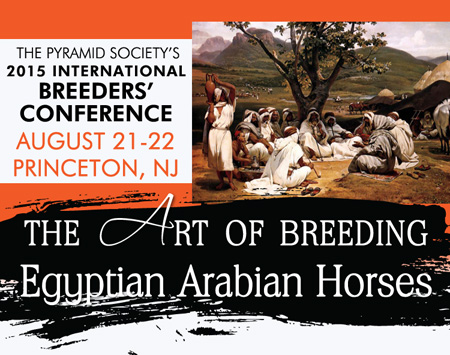 Contact: Pam Edwards, Marketing & PR Coordinator
pam@pyramidsociety.org
Everyone interested in raising Arabian horses is invited to mingle with breeders, owners, trainers, judges, artists and other industry professionals to gain special insights during the 2015 International Breeders' Conference in Princeton, NJ, on August 21-22.
The event begins at Thornewood Farm in Stockton, NJ, where some of the most gorgeous Straight Egyptian show champions are being born, raised, trained, and shown today.
The conference will continue at The Marriott at Forrestal Village on Friday afternoon and Saturday where participants will be involved in seminars that explore the foundations of the past while building bridges to the future.
INCLUDING:
- The Standard of Excellence - Hands-On Conformation Clinic
- Applying the Standard of Excellence – Training the Eye of the Beholder
- A Review of Breeding Philosophies – Ancient and Modern
- Building a Breeding Program – the 1st Generation
- Building a Breeding Program – the 2nd Generation
International panelists will discuss the role of the foundation sires in North America and their impact on today's horses.
This conference is for anyone who is interested in having a successful horse breeding program. The principals and discussions can be applied to all breeds to improve the overall approach to raising horses.
"I chose to raise Straight Egyptian Arabians because they are so versatile and intelligent," said Lisa Cifrese, owner of Thornewood Farm. "They are capable of performing in Dressage, jumping, eventing, working with cattle, racing, pleasure riding, and many other disciplines. They are also excellent for anyone who has an interest in horses. Another benefit is the preservation of Straight Egyptian Arabians is a wonderful way to have a working investment."
For more information about the 2015 International Breeders' Conference, Straight Egyptian Arabians, and The Pyramid Society visit www.PyramidSociety.org.
ABOUT THE PYRAMID SOCIETY:
The Pyramid Society is a member organization actively seeking to educate, inspire and connect people world-wide who are interested in Arabian horses with Egyptian bloodlines. Formed in 1969 by a small group of American Arabian horse breeders, The Pyramid Society originally set out to prevent Straight Egyptian Arabian blood from completely vanishing in North America.
Today, the organization has grown into an international community of breeders, owners, and supporters who remain dedicated to this mission: to preserve, perpetuate and promote the Straight Egyptian Arabian horse as the premiere source of classic Arabian type in the world.
Visit www.PyramidSociety.org today to learn more about the Straight Egyptian Arabian horse, The Pyramid Society, and the many ways you can get involved.
--Ends--