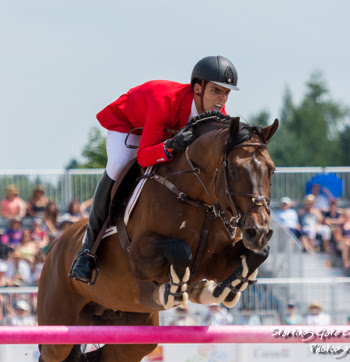 Via: Starting Gate Communications
18-year-old Finishes Sixth in Pan American Games Debut
Caledon, Ontario - Emanuel Andrade of Venezuela was one of five athletes involved in a jump-off for the individual bronze medal in show jumping at the TORONTO 2015 Pan American Games on Saturday, July 25, at the OLG Caledon Pan Am Equestrian Park in Caledon, ON.
Andrade, 18, was making his Pan American Games debut. Following two rounds of Olympic-level show jumping competition, Andrade was tied with four other riders on a score of four faults. Riding Hardrock Z, a 12-year-old Zangersheide stallion (Heartbreaker x Carthago Z), Andrade incurred one rail in the first round before returning to jump clear in the second round.
In the jump-off, Andrade incurred one rail for four faults, with his time of 43.46 seconds placing him sixth overall in the final standings. Lauren Hough of the United States won the jump-off for the individual bronze medal with Ohlala, while another jump-off for the gold medal saw Mclain Ward of the United States riding Rothchild emerge victorious over Andres Rodriguez riding Darlon van Groenhove. Rodriguez was one of Andrade's teammates on the seventh-placed Venezuelan team, riding alongside Pablo Barrios and Luis Larrazabal.
"It was big enough and difficult," said Andrade of the courses designed by Michel Vaillancourt of Canada for the individual final. "I am very happy. My horse jumped great."
Andrade made his major games debut last year when, at the age of 17, he competed at the Alltech FEI World Equestrian Games in Normandy, France, as a member of the Venezuelan Team. Comparing his experience at the two championship events, Andrade said, "It is the same height, but I feel more secure in what I am doing. I think the horse is more ready, too.
"We have a lot of opportunity going forward, and at the next games I am going to be more ready and maybe get a medal," continued Andrade. "It was an amazing experience!"
A total of 50 athletes contested show jumping competition at the TORONTO 2015 Pan American Games.
-- End--