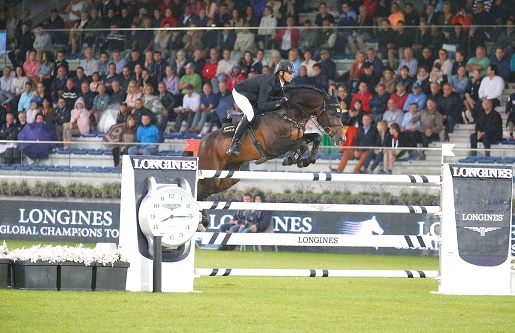 Via: pferdenews
Riders are accustomed to hot temperatures, wind and weather and adverse circumstances. With the abrupt change in the weather of midsummer through to continuous rain, the native Nordfriese Marco Kutscher got along best.
He won after an exciting jump-off (0 / 34.86) in the rain battle, the Longines Global Campion Tour Grand Prix of Valkenswaard. Saddled he had the 13 year old stallion Van Gogh, a son of his former success horse Numero Uno. About the second place, the Frenchman Simon Delestre rejoiced (0 / 34.97), who had the mare Qlassic Bois Margot ridden. Exuberant celebrated Bassem Hassan Mohammed from Qatar his third place (0 / 35.82) with the mare California.
The sudden fisselige rain, coupled with continuous return temperatures and difusem light made the 50 riders life in the twelfth stage of the world's highest endowed show jumping series any easier. But Marco Kutscher said quite clearly: "The conditions here are extraordinary. Down to the smallest detail, everything is perfectly realized.This system sets new standards for the future. . Thank you very much to Jan Tops "And Simon Selestre joined:" Despite the rain, the soil here in the grass arena of Tops International Arena extraordinarily well ".
The external circumstances were Marco Kutscher not spoil the rays. "I actually made up my mind here with Van Gogh nothing grand. My other two horses are injured, I had no great expectations. To be honest: I actually won anything yet with him. Then, a 5-star jumping to win incredible! "Marco Kutscher is regarded worldwide as one of the best riders. This bonus he went past, because he won against the entire world elite: 28 of the best 30 show jumpers were in Valkenswaard at the start. A nice side effect: For the victory, there was EUR 100 000 and a clock of the main sponsor Longines, presented by Vice-President, Juan-Carlos Capelli.
Great praise was of landlord and LGCT-President Jan Tops: "I am very proud of my compatriots who have been enthusiastically received by the audience of this tournament. We are sold out and people cheering the riders and to stay here, even if the weather is not good."
Still, the stages are before in Rome, Vienna and Vienna. It leads the rankings with 276 points in the world rankings-First Scott Brash (United Kingdom), before Luciana Diniz (254, Portugal) and Rolf-Göran Bengtsson (Sweden, 222).
--End--