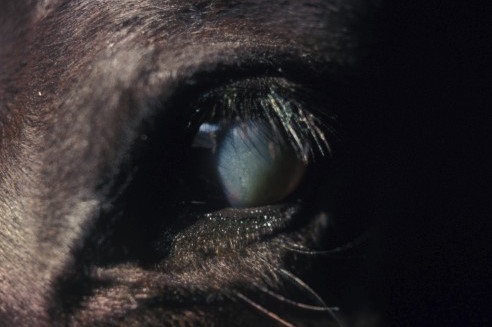 Equine Veterinary Journal Early View July 2015
By Heather Ferguson
Prognosis and impact of equine recurrent uveitis
Gerding J.C. and Gilger B.C.
This retrospective study aimed to further describe associated factors, prognosis and impact of equine recurrent uveitis. As well as reviewing the medical records, information was collected from owners in a questionnaire. Of 224 horses (338 affected eyes) with ERU admitted to a university veterinary hospital in the period 1999-2014, Appaloosas and Warmbloods were over-represented and Appaloosas were significantly more likely to be blind in one or both eyes following diagnosis. Geldings were also over-represented, although sex was not found to affect outcome, and neither was age at presentation.
At presentation, 67.5% of horses had ERU affecting both eyes; this proportion was greater in Appaloosas (87%). Of all eyes examined, 28.4% had lost all vision, and 7.6% of horses presented were blind in both eyes. The small proportion (4.7%) of cases with trauma as the inciting cause of the ERU were more likely to be blind when first examined and significantly less likely to return to their previous use. Horses with increased intra-ocular pressure (11.2%) were significantly more likely to be blind at presentation, blind at follow-up and to have an enucleation performed. Approximately half of horses had clinically significant cataracts, and these were significantly more likely to be blind at initial presentation or go on to become blind. Horses with hyalitis were no more likely to be blind at presentation than those without, but were more likely to go on to become blind. They were also more likely to have positive antibody titres in serum or aqueous humour to Leptospira serovars. Of the horses tested for Leptospirosis, 45.5% had a positive titre to one or more serovars in either serum or aqueous humour. Of these, 42.4% were blind at initial presentation and this group was also more likely to develop blindness compared to Leptospira negative horses. Various therapeutic procedures, including cyclosporine implantation and glaucoma therapies were used, but in numbers too small to determine their effect on outcome in this study. 12.1% of cases underwent enucleation.
Regarding return to function, 70.6% of horses returned to the same role they had prior to ERU, of which the majority (38.7%) performed at the same level. Those which did not return to their previous role were considered to be unable to adapt to vision loss (35.1%), were euthanased shortly after diagnosis (22.8%), underwent change of ownership (17.5%), retired (14%) or in the case of broodmares were removed from breeding (10.5%). Non-ocular complications were described by some owners, such as colic (16.4%) and orthopaedic conditions (14.4%).
In terms of financial costs, a large majority (84.5%) of owners felt that the economic value of their horse had decreased since the ERU episode. The most common ranges for cost of diagnostic investigations and veterinary treatments were $1000-3000 and $3000-5000 respectively. Ultimately 14.9% of all horses in the study were euthanased as a direct result of ERU.
Bottom line:
ERU has a severe detrimental impact on affected horses' vision and the horses ability to return to previous function. ERU results in large financial outlay for owners and can result in non-ocular complications, rehoming and euthanasia in some cases. The prognosis is poorer in Appaloosas, and horses with positive Leptospira titres, secondary glaucoma, cataracts and hyalitis. The over-representation of geldings in this study has not been noted previously and warrants further investigation.
--Ends--