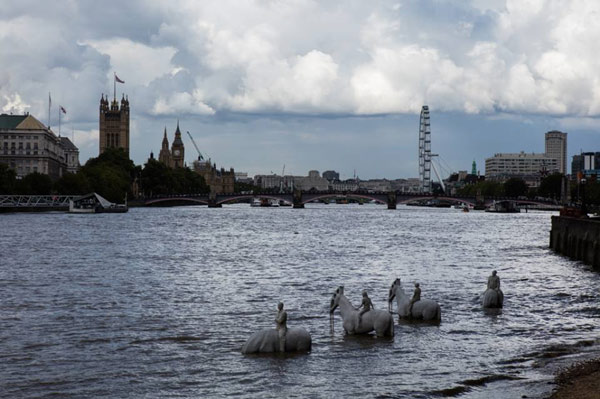 Via: HorseTalk

A horse-themed art installation carrying a message about the cost of industrialisation and climate change has appeared in the tidal reaches of London's Thames River within a mile of the Houses of Parliament.
The work, called Rising Tide, can be seen gradually emerging and disappearing from the edge of the river near Vauxhall Bridge as the tide rises and falls.
The artwork was created by 41-year-old British artist Jason deCaires Taylor, who is internationally known for creating the world's first underwater museum in Cancun, Mexico.
The four life-size Shire horses each have a rider. One of the striking elements of the artwork is Taylor's treatment of each animal's head. They have each been replaced by the "horse head" found on an oilwell pump in order to symbolise the effects of fossil fuel use on the planet.
The horses themselves represent a symbol of the origins of industrialisation.
However, the work sends a stark message on the cost of that industrialisation. It serves as a warning of the bleak future being created for the world, with the installation also representating the four horsemen of the apocalypse.
Two middle-aged suited figures sit on two of the horses, looking into the distance. They symbolise the politicians and businessmen responsible for ongoing climate change and control of the planet's resources. The other two riders are children, alluding to those whose futures are at stake.
The sculptures, made from marine-grade cement, were barged to their current site.
Much of Taylor's work is motivated by conservation and the need to tackle climate change.
Taylor, born in 1974 to an English father and Guyanese mother, grew up in Europe and Asia, where he spent much of his early childhood exploring the coral reefs of Malaysia.
Taylor graduated from the London Institute of Arts in 1998 with a BA Honours in Sculpture and went on to become a fully qualified diving instructor and underwater naturalist.
In 2006 he founded and created the world's first underwater sculpture park. Situated off the coast of Grenada in the West Indies, it is now listed as one of the Top 25 Wonders of the World by National Geographic.
His latest creation is Museo Subaquatico de Arte (MUSA), a monumental museum with a collection of more than 450 public sculptural works, submerged off the coast of Cancun, Mexico. The underwater attraction is crucial in taking some of the 750,000 annual visitors to the region away from the fragile natural reefs in the area, thus aiding their conservation.
Both these ambitious, permanent public works have a practical, functional aspect, facilitating positive interactions between people and fragile underwater habitats while at the same relieving pressure on natural resources.
--End--