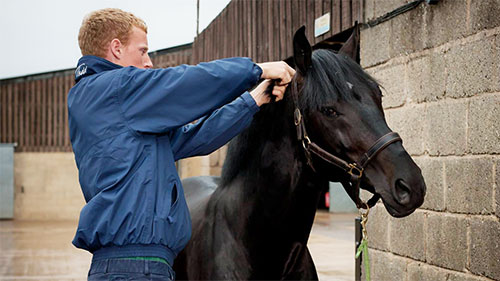 Via: The Equestrian News
Equine enthusiasts celebrate the cultural and storytelling aspects of the horse at the Equus International Film Festival and Conference, taking place in Missoula, MO, Sept. 18-20.
The all-disciplines festival is expected to attract an international group of equine and equestrian filmmakers, trainers, wilderness and horse enthusiasts to soak up the best the bigscreen has to offer in horse lore, as well as discuss equine issues in a summit setting.
"The horse has been integral to cultures all over the world, to our social histories, in every society, and even, to the development of nations. EIFF hopes to capture that diversity and importance," said festival founder Janet Rose, adding, "The mission of this new film festival and conference is "education and understanding to enhance the equine/human bond and to improve the welfare of the horse and other equines through film, television and other media."
The event takes place in at the University of Montana's Payne Family Native American Center and the University Center Theater, and is co-sponsored by the University's Native American Studies department.
Things kick off with an "official Indian welcome" delivered by the Chairman of the Confederated Salish and Kootenai Tribes, Vernon Finley on Friday, Sept. 18, when screenings focus on horses in Native American life.In addition to the Native American focus, the festival and conference will feature films on many issues including the controversy over wild horses on federal lands and horses as therapy animals for war veterans.
A filmmaker reception Saturday evening follows a screening schedule that includes Running Wild, Unbranded, Horses That Heal, and The Equestrian.
There are films about horses in wilderness, such as Untrammeled, the quintessential wilderness film, as well as films on unique training programs and performance sport, a story about the world of competitive dressage that features the real-life equestrian athlete, Sandro's Dancer. A closing night awards ceremony will honor the Best Of Fest.
"The stories," Rose said, "and the range of films featured, are far reaching and cinematically stunning. The films are beautiful, inspiring and heart warming. There will be tears, laughter and moments of holding your breath. The quality of the films entered this year, were amazing."
"The first EIFF was held in 2011 as a small event and the response was so positive that in its fourth year it's expanded to a full-blown festival and conference, Rose said.
The EIFF is an outreach and education project of an equine rescue and adoption organization with a goal of raising awareness. Organizers expect that by increasing our understanding of equine issues, communications, and training, as well as understanding the role of the horse in our lives, the bond between equine and human will be enhanced.
For those that can't make it to Missoula this year, put it on your calendar for 2016, and hit Netflix or your local video store to take in some of these cinematic equestrian classics.
--End--