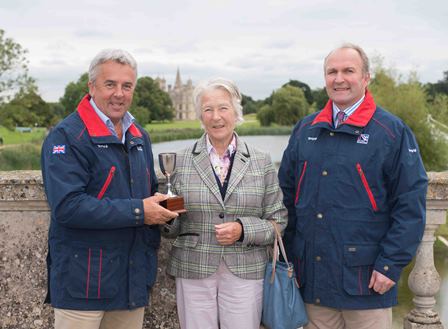 Via: Brtish Eventing
Yesterday at the 2015 Land Rover Burghley Horse Trials, internationally renowned cross country Course Designer, Mike Etherington-Smith was awarded with the Bill Thomson Bursary Trophy in recognition of his contribution of over thirty years of design and development at top courses around the world.
This Bursary is an annual award that is given in memory of Bill Thomson who pioneered cross country design in Britain, establishing many of the methods still used today.


On receiving the award at Burghley from Sue Thomson and BE Chairman Paul Hodgson, Mike commented: "This is a huge honour, Bill was the one who really started me off in my career in the eighties so it is very touching to be presented with the Trophy from Sue today. He was a truly great mentor with huge amount of knowledge; what he ever managed to forgot about building and designing was more than what most people can hope to try and remember!"


Mike who was British Eventing Chief Executive for over six years added: "I designed my first CCI3* course at Bramham in 1984. Nowadays, like him, I spend much of my time mentoring and passing on my learnings and knowledge with up and coming designers and builders to help develop the future of the sport."


Sue Thomson said of the award: "It is lovely that young people are getting the opportunity to work with mentors such as Mike and continue to gain access to important support whilst they develop their skills in building and designing."


Commenting on the modern day Burghley Horse Trials she said: "My husband [Bill] and James Grose were the ones who started up the event at Burghley back in 1961; the park here has changed beyond recognition since those times and it continues to be such a wonderful event."
The Bursary is a registered charity and non-profit making organisation and has helped over 20 names become British Eventing approved cross country course builders and designers, at all levels. The Bursary aims to support Regional training seminars to bring all those involved in course design and building be they BE, Pony Club or Riding Club, up to date with all the latest developments in the sport.
--End--