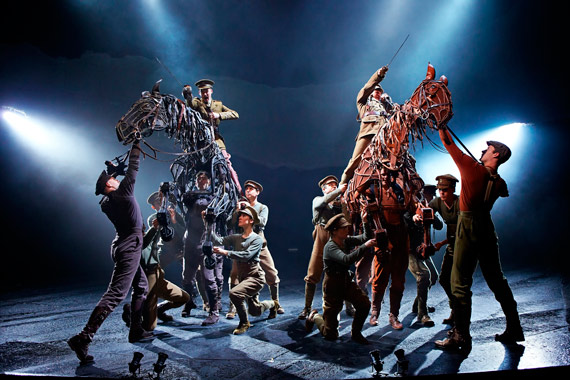 Via:HorseTalk
The London stage production of War Horse will end its record-breaking run in March next year, it has been announced.
The hugely popular stage production, based on Michael Morpurgo's children's book of the same name, has been seen by more than 2.7 million theatre goers since it opened in London in March 2009.
The show, which features life-size horse puppets, has also been produced around the globe, playing to sellout crowds.
Warhorseonstage.com has confirmed that New London Theatre will host its last performance on March 12. The show will then tour until the end of 2017, at which point it will be wrapped up.
Producer Chris Harper told thestage.co.uk: "War Horse has wowed audiences around the world, and we are incredibly proud of what the show has achieved.
"It has been a privilege to bring Michael Morpurgo's beloved novel to the stage and to share this beautiful story of love and friendship with audiences."
Morpurgo noted that no National Theatre play had played to more people or travelled the world so widely as War Horse.
"Great things from small beginnings grow," he said.
"Tom Morris and Marianne Eliott dared to take a children's book, and not a well known or successful one either, about a horse and a boy in the First World War, and make a play of it with puppets. But what puppets!
"Between them, the National Theatre and Handspring Puppet Company have transformed the use of puppetry in theatre.
"Then they wove into their play the design of Rae Smith, the music of Adrian Sutton and John Tams, glorious lighting and sound, and spent two risky years putting the show together.
"The result, after a stuttering start, was an iconic play, but not simply a play, certainly not a musical, a show like no other, with puppets at its heart.
"It has moved millions in London and all over the world. Vast numbers of children have been to see the show, in families and school groups, and will never forget it.

"How great to see the theatre always full of people of all generations, all caught up in the story playing out before them, in a show once called 'the greatest anthem to peace ever seen on a stage'."
Morpurgo said so many people had played their part in the making of the play, in the telling of the story on stage, including hundreds of wonderful actors.
"The book is now rather better known, but through the play. So the Bard was right when he wrote the line: 'the play's the thing'. And the play, like the book, goes on.
"It is playing now in Beijing, then Shanghai, and in 2017 will return for another tour of the UK. Then who knows? Joey will be up for it. He may even come back to London one day. Hope so. But London is a busy place for a horse, and he is getting on a bit, like me."
--End--