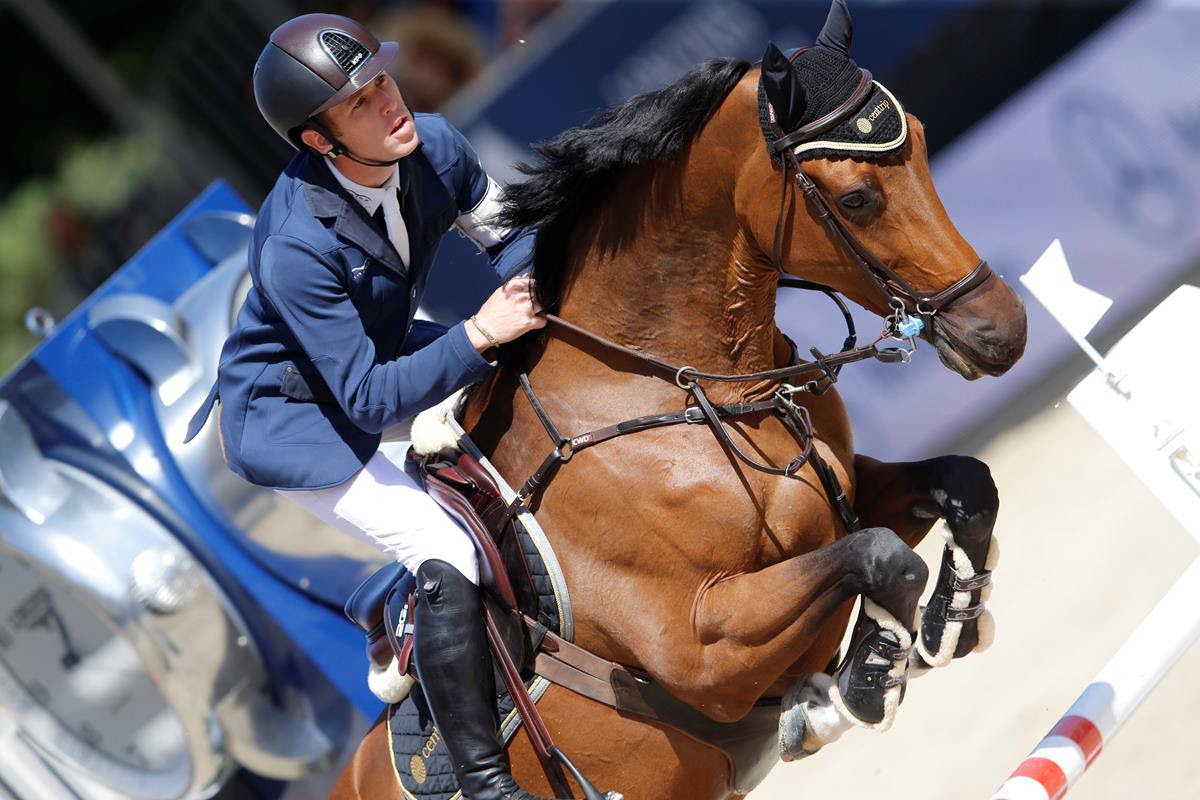 Via: LGCT
One of the most high stakes battles in Tour history will unfold tonight in which World No1 Scott Brash could be crowned 2015 Champion or face a "do or die" showdown at the final in November.
The penultimate Longines Global Champions Tour of the season under floodlights in Vienna this evening will be packed with drama in the spectacular setting of the Austrian capital.
Great Britain's Scott is leading the Championship on 276 points, 11 points ahead of second place Portugal's Luciana Diniz (265 points) who is only three points ahead of Rolf-Göran Bengtsson of Sweden (262 points).
After one of the most competitive seasons of the Tour's history a fascinating set of scenarios could see Scott declared Champion if he wins tonight. Scott will need to finish in 5th place or above to win, but only if Luciana and Rolf score zero points. But the two star riders have been on fire all season and with Luciana on Winningmood, Grand Prix winner in Madrid, and Rolf riding Casall ASK, Grand Prix winner in London and Rome, Scott will have his work cut out. The British rider is not competing on his champion Hello Sanctos, but is riding Hello M'Lady, winner of the Longines Global Champions Tour Grand Prix of Monaco this year.
Only 8 scores from the series count towards the final total for every rider. If Scott wins tonight he will have to scratch his lowest score so far. This means he can score the maximum 40 points but will have to deduct his lowest score of 29 points - making a total of 11 points and leaving him on a score of 287.
If Scott scores no points tonight, Luciana and Rolf have the chance to take the overall ranking lead by a slim margin - but only if they win.
Scott Brash commented: "It's been an incredible season so far, and really competitive at the top. I'm sure it'll come down to the wire, and you can never underestimate Luciana and Rolf who are on such great form."
Tonight's 1.60m competition sets up a thrilling climax to what has been an electrifying season starting in Miami Beach and taking in stunning capital city and riviera destinations worldwide, bringing show jumping to new audiences globally.
There are a number of exciting close contests in one of the most closely fought championship battles since the Tour began. French speed ace Simon Delestre, Grand Prix winner at the Antwerp leg, could still win the championship but he would have to pull off the stunning feat of winning tonight and at the final in Doha, Qatar, in November. But with a strong finish tonight he can close the gap on the leaders.
Sheikh Ali Bin Khalid Al Thani of Qatar, is in the overall top six on 195 points, and can improve his position in the final championship ranking before going into the final in his home nation.
There will be fierce combat tonight as Olympic, World and European Champions pull out all the stops for points and prize money on this prestigious penultimate stage of the championship.
--End--