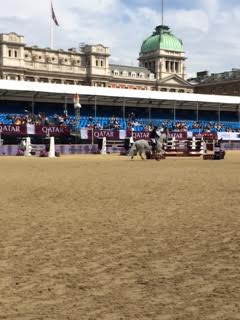 The Perils Of Show Jumping Sport - 5
London baby!!!

I'm sitting writing this update in a very stormy London LGCT - at the minute we have thunder and rain....But what a venue!!!

From the minute we arrived to the stunning location just a horseshoe toss to Buckingham palace, you had the feeling that this was special! Londoners going about their everyday business in the city were greeted with the sight of various horse lorries weaving in and out the busy streets - some for a lot longer than meant - with a lot of the drivers more accustomed to navigating the city via the tube system or in a cab rather than at the wheel of a 26 tonne vehicle!

But eventually all horses were safely ensconced in their cosy stables and all the equipment that comes with unloaded....And lorries relocated several km away to the parking - living space which given their location would normally cost thousands to stay in!!

The look on all the riders faces as we saw the route through St. James Park to the arena we had to take was so funny - it involves crossing the road with many yellow tabarded officials drafted in to stop traffic, joggers and the odd bus load of tourists so we can cross our pampered ponies to the relative safety of a corridored walkway along the parkway, a good fifteen minutes walk to the ring.

You might have thought that achieving this on a highly strung competition animal would be fraught with danger and excitement - however my mare Lady's Queen took all in her stride past swans in the lake, joggers, cyclists and actually only slightly flared a nostril when several little Chinese tourists ran towards her excitedly waving their Union Jack flags...And these the same horses who make a fuss hacking down quiet country roads at home!!!

But how fantastic to be a part of such an amazing occasion - even though in this morning's class we had the first fence and so just had a schooling outing to end up - and Sam's mare had one rail down - and Sam had one down - he whacked the wing of the last fence with his leg - for sure he will be careful tomorrow!!

We are now settled down nice and dry inside watching the poor five star riders getting drenched to the skin.... It's tough at the top and just shows that even surrounded by all the glitz and glamour at the basic level it's about a horse, a rider - and the elements!!!!

Photo Gallery
Prev
1 of 4
Next