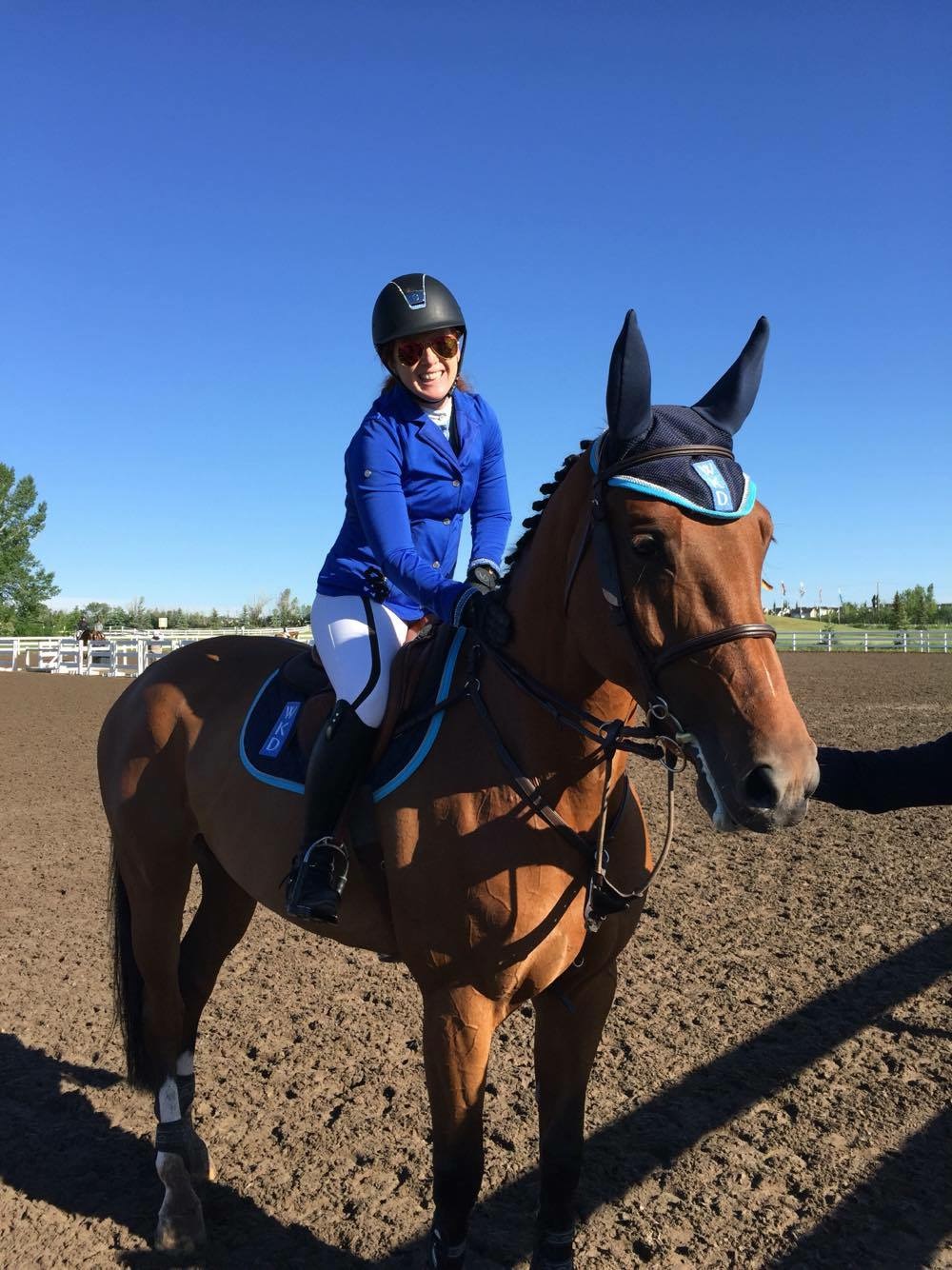 The Perils Of Show Jumping Sport - 32
Well we made it!!!
It was not easy but eventually we got six horses, two grooms, two riders and of course Sally the dog safely to spruce!!
It was not easy however, as usual with the WKD team things did not quite go to plan with Sam and I having a flight to Calgary booked from London midday Monday and still the Friday before there was no sign of Sam's visa....!!
As positive and determined as ever I am it was starting to look like I was going to be heading to spruce on my own...!
It was decided that the best option was for us to actually go to the Canadian embassy in London, we had been emailing them for days and contacting anyone remotely Canadian for help... Time was running out and desperation was kicking in as Sam and I stood outside the embassy pleading with the security guys outside to at least go see if his application was there!

It seemed it was not to be as they came back and said it was not there and we could not go in.... We walked away, me starting to panic as I imagined having to do six horses on my own in Canada, when all of a sudden Sam's phone rang with a strange London number..... It was the embassy, they had seen our emails and if we could go there and they would sort the visa!
I am not sure to this day what exactly happened; whether they just wanted to get rid of us or what but all I know is twenty minutes later we were heading to Heathrow with a four year visa for Sam...

We could finally relax and look forward to the jumping.

We landed in spruce Monday afternoon after a nine hour flight and with an eight hour time difference we were slightly dazed and bewildered. The horses would arrive later that night and the next day would start the clear round jumping. Not really ideal but the best chance to let the horses into the very spooky main arena and get them around the fences before the classes started on Wednesday, and as we always say there is no schooling at spruce; every round counts and every class is important.

The first international class came quickly and it was with WKD diva Sam made his first appearance in the huge international ring, it was a one round 1.50m speed class and all seemed to be going well until suddenly both horse and rider disappeared from my view... The mare had tripped or slipped and the two of them went sliding to the ground!! Luckily neither was hurt but just a little shaken. Not really the start we wanted to be honest!

My turn was next with the beautiful amigo cascada and me, going in a speed class... She is such a big mare that actually I was more worried about getting inside the time allowed than anything else, so I was really amazed when she ended up in second place... I was very happy to be sure with this gorgeous eight year old daughter of captain fire and I hope these next few weeks we can continue to cement a good partnership.

Sam had diva back in the international arena next day as she came out none the worse from her fall, and after a bit of Physio, she was looking in great form and the two of them entered the ring with a determination on Sam's face to complete the course this time with the mare still underneath him!

Clear first round, had the makings of an incredible jump off with some of the fastest riders in the world hot on Sam's tail! Diva and he soared over the fences in a super time to eventually end up in fourth place, the first five stars winning for this fantastic nine year old chestnut mare.

The next day she was to go one better, ending up third in another super-fast winning round class to end the first show on a high for the team with a third and fourth international placing.
It was not to be zorro's weekend, the trip and jet lag affecting her a little and she just had unlucky poles here and there, but she jumped well in the five hundred thousand dollar Rolex Grand Prix which was a really meaty 1.60m track, just getting tired near the end. With my mares all jumping some lovely rounds in the national classes, giving me some nice ribbons and placings, and Sam "borrowing" my mare wicked crush (really can't see me getting this one off him again!) to win a second placing in the national arena; it was a great start for the WKD team here in sunny Calgary, and I have high hopes for us as we start again tomorrow. No rest for the wicked as they say - let's hope it's another great week at beautiful spruce meadows.