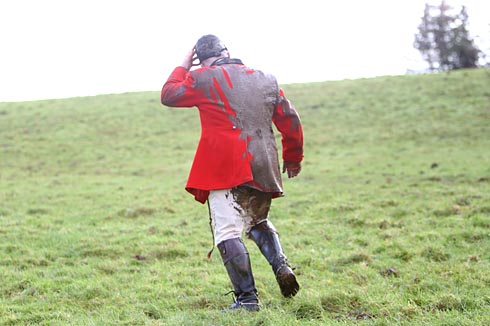 Via: Horse & Hound
No amount of positive thinking can avoid the fact that at some point we will all fall off our horse. It's the harsh reality of horse riding. And, although most riders like to make light of the situation, the truth is that "taking a purler" or "going out the side door", can cause damage.
But, it is possible to learn to fall in a way that limits the impact on vulnerable areas. The Equichute at the British Racing School offers the chance to learn this useful skill. The mechanical horse launches riders off onto soft mats, repeatedly, allowing them to analyse and improve the way they fall.
So, Horse & Hound invited some intrepid riders including eventers, jump jockeys and point-to-pointers to have a go. Watch the video below to see how they got on and see the good (and the not so good) falls.
When you get to the no point of return:
Bend through the body and bring the arms upwards around the head.
Keep the elbows bent and fingers tucked in, so the outside of the elbow, forearm and back of the hand find the ground.
Keep the head tucked in with the chin down towards the chest.
Try to absorb the roll so the impact is taken through the side of the head, across the shoulder and back to the hip. It should look almost like a skewed forward roll.
Roll away.
END