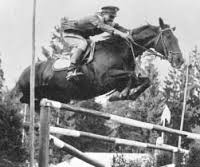 It was 1956, before the equestrian competitions of the Olympic Games in Stockholm, an Egyptian officer Equipe the CSIO Luzern visited. The three riders were only moderately successful, but they came in the newspaper, thanks to the horse of captain Mohamed Selim Zaki named Inchallah.
Today, his actual age than 18 is specified. But at that time, 1956, was circulated that Inchallah was 21 years old, and that was exceptional.
Inchallah bore the Egyptian captain in ninth place in Stockholm. 40 years on I met Zaki at Mövenpick tournament in Cairo. He was retired as general, as well as his former team-mates El Hadari and El Hares. General Zaki told Inch Allah real age and confirmed that the horse had lived in retirement after the Olympics start in 1956 for several years.
Jet Run, Milton, Big Ben, Gladstone
These youth memories came alive when I got a list of the early winners of the World Cup finals under his eyes. Of the first 13 World Cup winners whose eleven at least 17 years old were. The winner of 1987 in Paris-Bercy, The Natural died, 2008 31-year. Calypso (1982) and Abdullah (1985) died in 2002 and 2000 as a 29-year-old. Jet Run, the winner in 1981, was 28 years old. Big Ben and Milton, the two finals won (consecutively from 1988 to 1991), both died in 1999. Big Ben was 23, Milton 21. The first two winners of 1979 and 1980, and Gladstone Balbuco lived, relatively long. Hugo Simons Gladstone was 18 - Conrad Homfelds Balbuco 19th
Alain Storme
--Ends--