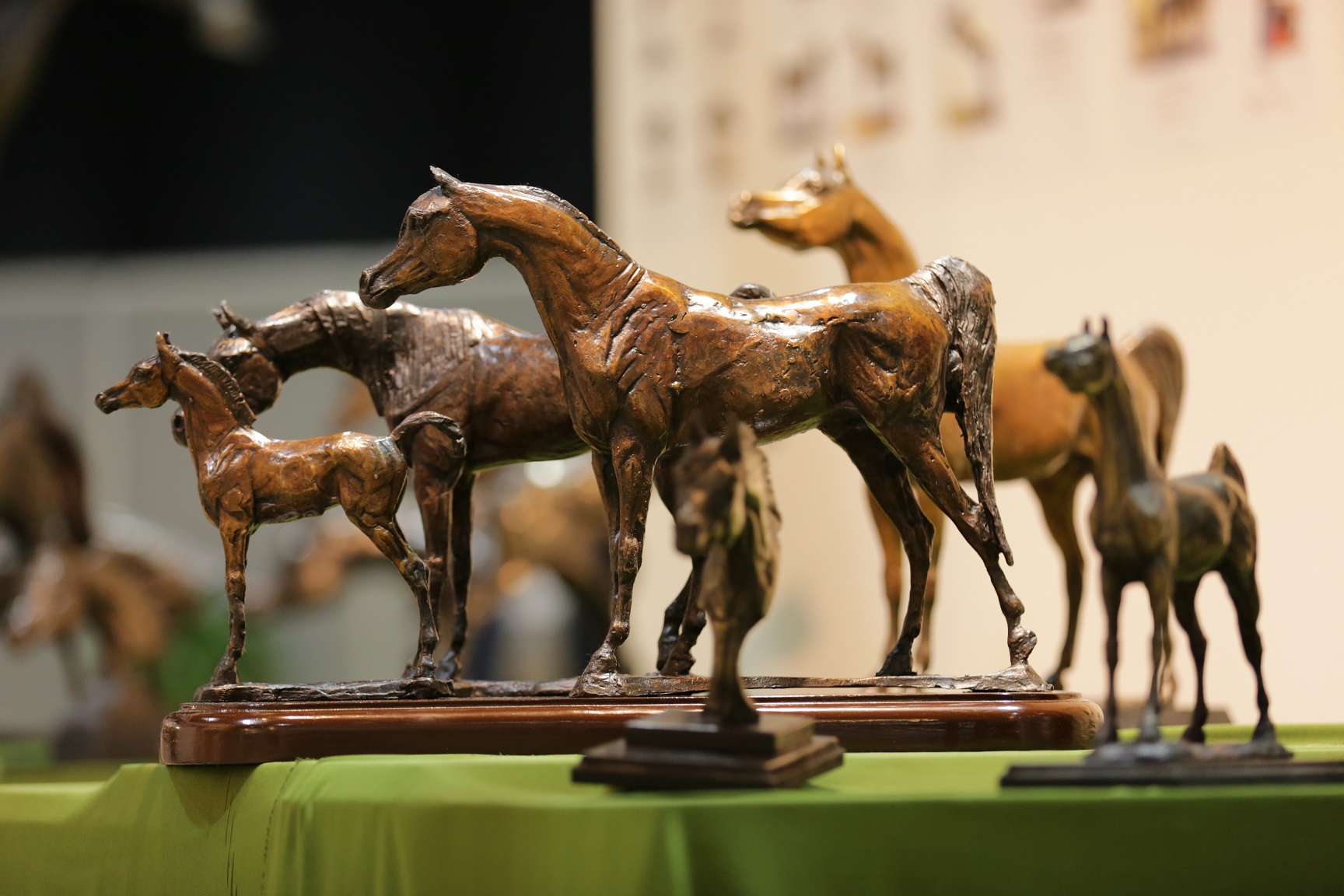 Painters, sculptors and sketch artists from France, Spain, Italy, South Africa, Kyrgystan and more participate this year.
Dubai, United Arab Emirates
From intricate oil paintings to life-sized sculptures, artists specializing in equestrian art have showcased their works to a discerning crowd who are passionate about purebred Arabian horses at the
12th Dubai International Horse Fair Art Gallery.
Held under the patronage of H.H. Sheikh Hamdan bin Rashid Al Maktoum, Deputy Ruler of Dubai and UAE Minister of Finance, Dubai International Horse Fair and Dubai International Arabian Horse Championship come to an end today (Saturday, 19 March 2016) at Dubai World Trade Centre.
Silvana Pittin from Venice, Italy, has been painting, riding and celebrating Arabian horses for more than 20 years. "I specialise in painting Arabian horses and camels because I simply love them – they are the best breed in the world." Pittin has a range of oil painting available for sale or commission.
Frenchman Remi Bertoche makes a comeback to the Dubai International Horse Fair for the fifth time with his larger than life paintings, which depict horse racing, Arabian breeds and riders. "Over the time I have participated at the Dubai International Horse Fair I have gained a strong following in the Middle East from royal family members to horse studs and VIP clients who love horses."
Gold Line Italia, also exhibiting at the show, specialises in silver and gold horse sculptures with precious stones and materials that range from €100 (AED400) to €50,000 (AED207,000). "Our production is 100% Italian made with specialised artisans, painters and sculptors producing these customised pieces. About 90% of all the pieces we produce are sold to the GCC market from royal families and VIPs from various sectors who want to buy gifts," said Loredana Sandona, General Manager of Gold Line Italia.
Arend Eloff, from South Africa, has showcased his range of bronze horse sculptures that range from a few centimetres in size to three metre life-sized pieces. The artist specialises in horses and wild life, which are hugely popular among Middle East art lovers and equestrian aficionados.
The Dubai International Horse Fair 2016 is held in Halls 5 and 6 at Dubai World Trade Centre. Opening hours are 2pm – 8pm on 18 March and 11am – 8pm on 19 March. Admission is free of charge and open to trade visitors and the general public. Children under the age of 16 must be accompanied by an adult at all times. Pre-registration is now open at the show's official website
www.dihf.ae
.
About Dubai International Horse Fair:
DIHF 2016 will be held from 17 - 19 March 2016 at DWTC. For the 12th consecutive year, the exhibition will serve as a forum for international manufacturers, distributors, retailers and equestrian enthusiasts.
DIHF will be held under the patronage of HH Sheikh Hamdan bin Rashid Al Maktoum, Deputy Ruler of Dubai, UAE Minister of Finance. The exhibition will once again be held alongside the Dubai International Arabian Horse Championship, a world-class competition for purebred Arabian horses.
With the region's largest display of equestrian equipment, services, products and interactive horse experiences, the three-day exhibition is expected to attract thousands of visitors.
About Dubai World Trade Centre (DWTC)
As the organiser of the Dubai International Horse Fair 2015, Dubai World Trade Centre (DWTC) offers over 34 years experience of delivering world-class events in the Middle East, providing local, regional and international exhibitors with unmatched expertise and in-depth market knowledge. Our team organises 20 of the largest and most successful international and regional shows in Middle East, providing an ideal platform for business development in the region.
Our commitment to ongoing innovation within the exhibition industry has supported the rapid growth and development of a wide range of business-to-business and business-to-consumer shows, and delivered consistent satisfaction to exhibitors and visitors. DWTC works with the leading trade bodies and industry associations to ensure that all exhibitions deliver full value and are built upon the real needs of their specific sector.
Photo Gallery
Prev
1 of 5
Next