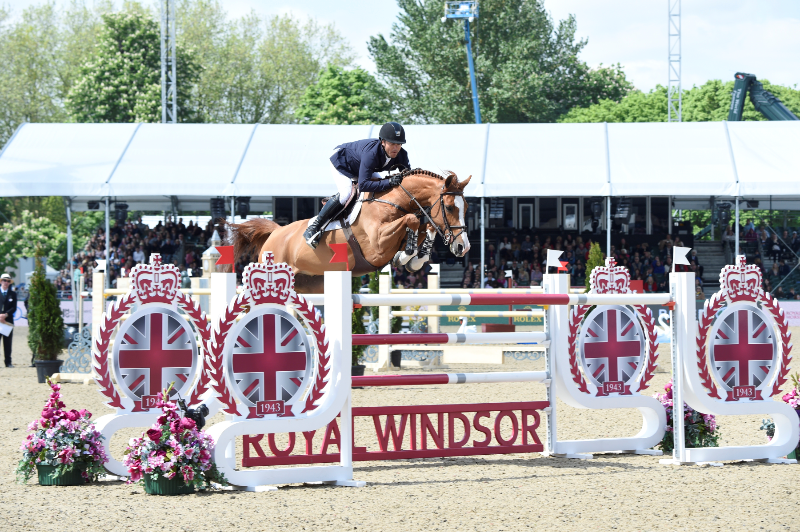 TICKETS ON SALE FOR 5* ROYAL WINDSOR HORSE SHOW
Media Release
Elite and global competition comes to Windsor next year, with 5* Show Jumping, 4* Dressage, Nations Cup Carriage Driving and 2* Endurance all taking place over the course of the five-day Horse Show which has become the largest outdoor equestrian event in the country.
The Show will have a total prize fund of over £520,000 – the largest of any UK outdoor show - which includes €275,000 for the newly introduced Rolex Grand Prix. This will be the largest single prize for a 5* Show Jumping class in the UK.
Royal Windsor Horse Show is a highlight of the British equestrian calendar and kicks off the busy summer show season. The 2017 event has been boosted by the announcement of Rolex as a new Official Partner; they join long established partners Land Rover, Laurent-Perrier, DAKS, Hermès, The Dorchester Collection, Musto and Martin Collins Enterprises.
Show Director, Simon Brooks-Ward said: "2017 is an extremely exciting year for Royal Windsor Horse Show with the elevation to 5* level, putting us alongside the best international horse shows in the world. Our sponsors and supporters are vital partners in this event and we're delighted that Rolex has come on board to join our family."
In addition to the international Show Jumping on offer, equestrian enthusiasts can also enjoy top-class Showing, with over 140 classes planned into the busy showing programme which includes, newly introduced this year, a Supreme Show Championship. As always, HM The Queen will be keeping a watchful eye on the competition, having had a highly successful 2016 show when she competed her ex-racehorse Barber's Shop.
On Friday 12th May the already established 120km CEI2* Royal Windsor Endurance will take place in Windsor Great Park. This year, it will be joined by a CEI1* 80km and an Endurance GB 40km ride, all conducted under FEI rules.
Furthermore, the Show will again host the Land Rover CAIO4* International Driving Grand Prix, which will take place over four days of the Show and include an FEI World Cup™ Qualifier for the Four-In-Hand class, and will see a welcome return of the Horse Pairs.
Evening performances will be back for 2017 with 4* Dressage Grand Prix and Freestyle to Music on Thursday and Friday respectively and 5* Show Jumping on Saturday. All evening performances will include displays from The Household Cavalry Mounted Regiment and The King's Troop Royal Horse Artillery.
Tickets for the show are now on sale and once again, Royal Windsor Horse Show organisers are delighted to offer free admission to all visitors on the opening day of the show, dubbed as 'Windsor Wednesday' on 10th May (free tickets must be reserved in advance). Tickets for evening performances can be purchased separately or jointly with day tickets and there are options to reserve grandstand seating in prime positions.
The general admission ticket price for adults on Thursday 11th May is £17.00 and £20.00 on Friday 12th May. On Saturday 13th May and Sunday 14th May showground entry is £27.50 for adults and £14.00 for children. There are discounts for group bookings and concessions as well as family value tickets for two adults and three children for £70 on either Saturday or Sunday.
For those seeking a more exclusive experience at Royal Windsor, packages are now also available to purchase offering access to the Members Enclosure or the new Windsor Enclosure. The premium Members Enclosure has seating alongside the Royal Enclosure, a Members restaurant, bar and terrace all of which overlook the main Castle Arena. The Windsor Enclosure is a new introduction to Royal Windsor and provides an enclosure with a bistro, bar and lawn on the north-east end of the Castle Arena and pre-booked seating in proximity to the Royal Enclosure.
All tickets can be purchased at www.rwhs.co.uk or by telephoning the box office on 0844 581 4960 from the UK and +44 (0)1753 743589 internationally.
--Ends--