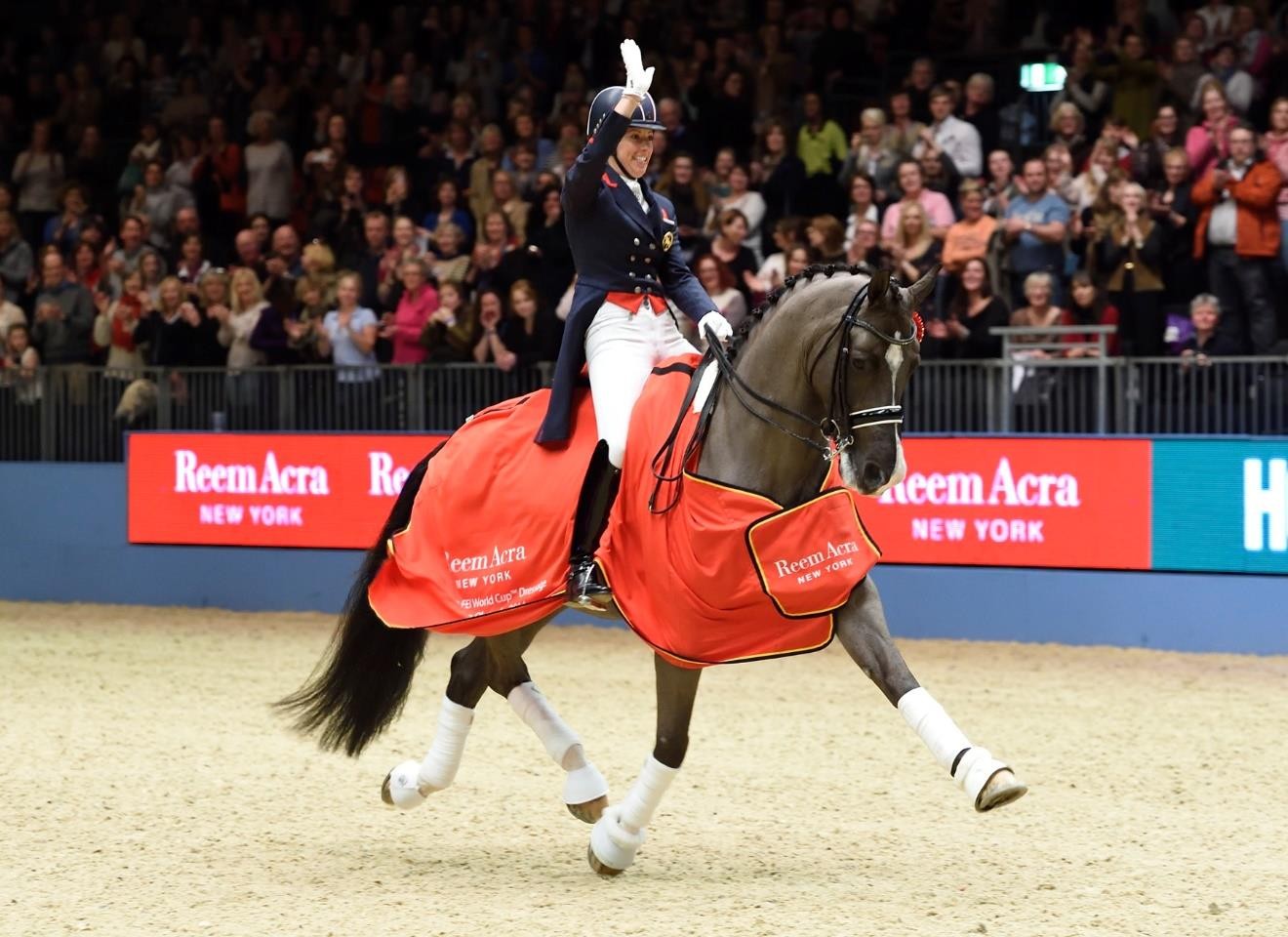 Media Release
Organisers of Olympia, the London International Horse Show have revealed that Olympic equine star, Valegro, will be appearing alongside Charlotte Dujardin and Carl Hester, in London this December. Valegro's official retirement from competition will take place in the Grand Hall on Wednesday 14 December. The retirement ceremony will follow the FEI World Cup™ Dressage Freestyle competition in what promises to be an emotional evening for Valegro fans.
Charlotte Dujardin OBE commented, "Valegro is a once in a lifetime horse and owes us nothing. I can't wait to take him to Olympia and give him the send-off he deserves."
Carl Hester MBE, spoke of their decision to retire Valegro at Olympia, "Valegro has done it all and we want him to go out in style! What better place than at Olympia – he loves the arena and being so close to the crowd. It is where he and Charlotte broke the world record in 2014 and it is the perfect place for our loyal British fans to say their farewell."
For those who are unable to purchase tickets for the Wednesday evening performance, the audience in attendance on Tuesday 13 December will be treated to a Q&A session with Rio Olympic Team Silver Medallist, Carl Hester, Triple Gold Medallist, Charlotte Dujardin and Valegro. The audience will be invited to submit their questions in advance and selected spectators will be able to ask the questions in person.
Show Director, Simon Brooks-Ward commented, "We are honoured that Charlotte and Carl have chosen Olympia as the place to retire Valegro. He is a true legend of equestrian sport and we will make sure that he has the perfect send-off. We wanted as many people as possible to have the opportunity to see Valegro and hope that his fans are able to make one of the performances."
The world's top competitors will be in attendance, as once again Olympia will host three FEI World Cup™ competitions in Carriage Driving, Dressage and Show Jumping. The FEI World Cup™ Dressage leg takes place on 13 and 14 December, the FEI World Cup™ Driving leg presented by Dodson & Horrell on 16 and 17 December and the Longines FEI World Cup™ Jumping leg presented by H&M on Sunday 18 December. The climax of the seven-day equine extravaganza will be the Olympia Grand Prix on Monday 19 December.
--Ends--