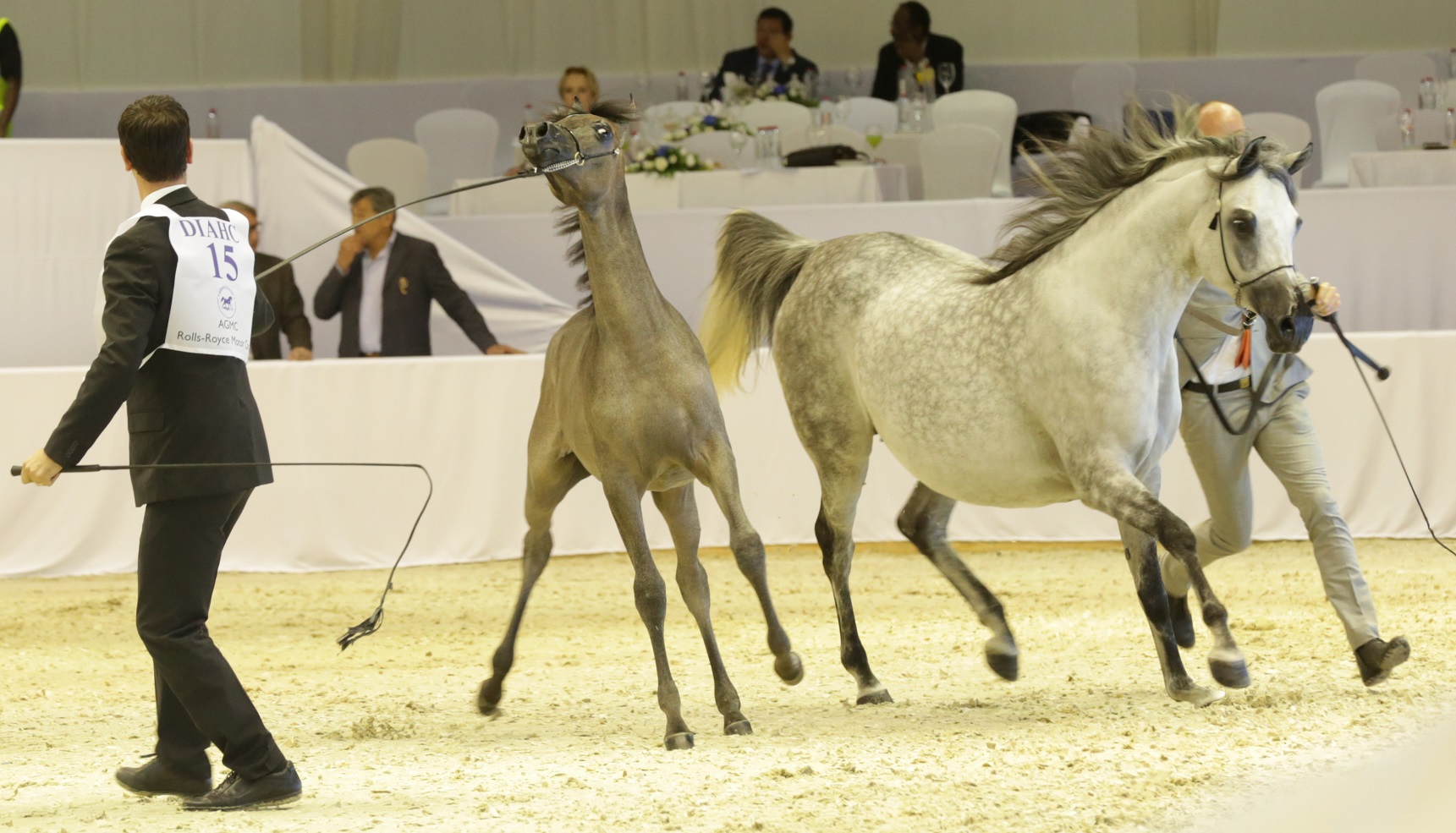 The region's most significant and influential equine event, Dubai International Horse Fair, will return for its 13th edition from March 16 to 18 at Dubai World Trade Centre. The event is co-located with the 14th edition of the world-acclaimed Dubai International Arabian Horse Championship
Dubai, United Arab Emirates
The 13th Dubai International Horse Fair, held alongside the 14th Dubai International Arabian Horse Championship, returns next month at the heart of a booming market for racing, endurance, recreational riding and show jumping products in the region's equine industry. Taking place from 16 - 18 March 2017 at Dubai World Trade Centre, the event is held under the patronage of H.H. Sheikh Hamdan bin Rashid Al Maktoum, Deputy Ruler of Dubai and UAE Minister of Finance.
The Middle East's growing significance as a global destination for the equestrian industry is evidenced by a burgeoning AED 1.2 billion equestrian import market for related products and equipment in the UAE. In addition, Dubai's synonymy with horseracing excellence, and a passion for equestrian activities, has led to multi-billion dollar infrastructure investments that are stimulating growth in this sector.
Once again, internationally and regionally renowned brands including stables, feeds, riding apparel & garments, art, décor & lifestyle, hunting, riding clubs are gathering at this year's three- day equestrian celebration, strengthening Dubai International Horse Fair's position as a must- attend event for all lovers, and the key trading platform for the equestrian Middle East market .
More than 10,000 buyers, professionals, breeders and enthusiasts from over 20 countries in the equestrian industry will attend the Dubai International Horse Fair to widen their global networks with over 200 brands and companies. This year country participants are Argentina, Australia, Bahrain, France, Germany, Ireland, Italy, Malta, Qatar, South Africa, Taiwan, Turkey and the United Kingdom. New participating countries include Argentina, Russia, Slovenia and Turkey.
Ziad Abdullah Galadari, Chairman, Higher Organising Committee of Dubai International Arabian Horse Championship, said: "The UAE is home to some of the finest horses in the world, namely our Arabian breed, which is the oldest purebred known to man. At the upcoming Dubai International Arabian Horse Championship, the equestrian community and members of the public will get a unique opportunity to view these legendary creatures who are admired worldwide for their beauty and athleticism. Those who are dedicated to advancing the fields of equestrian breeding, training, technologies, health and performance are looking forward to networking and gaining knowledge about the latest industry advancements at the 13th Dubai International Horse Fair."
The 14th Dubai International Arabian Horse Championship will present some of the most magnificent Arabian breeds in the world, worth an estimated USD1 million to USD2 million, to discerning horse enthusiasts. The competition, exclusive to purebred Arabian horses to judge their beauty, agility and heritage, offers prize money of USD4 million (AED15 million).
Adding to the excitement of the Dubai International Horse Fair is a line-up of new features that will be enjoyed by youngsters, families and recreational riders alike. Al Tamimi Stables will host a "Fun Farm" where children will have the opportunity to touch, feed and learn about various domesticated animals such as Shetland ponies, goats, snakes, rabbits and birds.
A social clubs area, held in partnership with the Community Development Authority, will offer folklore dances and cultural activities during the show. Equestrian therapy for special needs children and adults will also be demonstrated.
Set to delight audiences again this year are the Spanish Equestrian performances, which includes 30 minutes of thrilling stunts and manoeuvres, as well as the Art Gallery section, specialising in equestrian pieces by renowned artists and sculptors. The Heritage Village is back featuring traditional Bedouin houses, falconry, local dishes, henna tattooing and more.
The Horse Auction for Arabian purebred horses from local studs returns this year and will be held on the 3rd day of the show. 100 Arabian horse breeds of superior lineage will be on sale and the event is anticipated to attract hundreds of buyers from across the region.
Leading international and local companies and brands exhibiting a range of products and services are:
Al Awani General Enterprises, Al Hawajer Stud, Al Khail Equestrian/Hba Equipments, Equine Products UK, First Choice Show Halters, Gummiwerk Kraiburg Elastik GmbH, Jone-shou Industrial, and Shadwell Estate
The Dubai International Horse Fair 2017 will be held in Halls 5 and 6 at Dubai World Trade Centre. Opening hours are 11am - 8pm on 16 March, 2pm – 8pm on 17 March and 10 am – 8 pm on 18 March. Admission is free of charge and open to trade visitors and the general public. Children under the age of 16 must be accompanied by an adult at all times. Pre-registration is now open at the show's official website www.dihf.ae.
--Ends--
Photo Gallery
Prev
1 of 4
Next