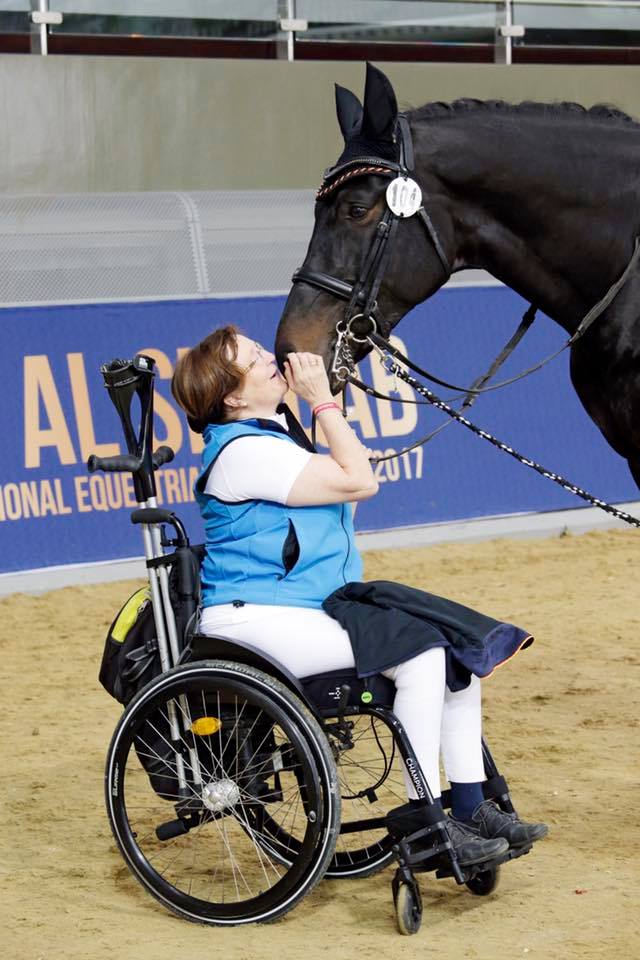 CHI AL SHAQAB 2017, Doha, Qatar
The Freestyle class was the finale for the 26 Para Dressage Riders competing here on the closing day of CHI AL SHAQAB 2017. The Freestyle is a competition where riders perform certain dressage movements but make up their own sequence which is choreographed to their choice of music. They ride in front of three world renowned judges who mark their performance of the movements as well as "artistic" marks for their choreography and rhythm to the music.
Jens Lasse Dokkan claimed his third victory in the Grade I scoring 72.917 % with his loyal mare Cypres. He was thrilled to beat several riders higher than him in the world rankings. Second place went to Elke Philipp who is ranked seventh in the world but came to CHI AL SHAQAB with second string horse Fuerst Sinclair 3. Philipp was individual and team gold medallist for Germany at the Rio Paralympic Games on her main horse Regaliz.
In the Grade II Pepo Puch reminded us why he was the gold medal winner at the Rio Paralympics and ranked third in the world. Although this time, his score of 76.889 % on Fontainenoir took just a short lead over Lee Pearson, who scored 76.000% on his homebred mare Styletta. The eight year old mare looked a lot more settled in her performance than her previous two tests. Pearson is currently sixth in the world rankings but has won a staggering 11 gold medals at the Paralympic Games in Sydney, Athens, Beijing and London.
Steffen Zeibig's 72.000% in the Grade III Freestyle was good enough for another win over Rixt van der Horst. Zeibig was delighted with the German bred mare Feel Good 4 who has won every class this week. He also competes in able-bodied showjumping and dressage.
Sanne Voets stormed ahead again in the Grade IV with an outstanding score of 75.458%. Riding Demantur the Dutch rider who is ranked 21st in the world is a regular competitor at CHI AL SHAQAB which has been a lucky place for him- he led both the Team competition and the Individual event held yesterday and won last year. Trailing behind with a score of 68.583% was Philippa Johnson-Dwyer with Verdi.
It was another Dutch success for father of three Frank Hosmar in the Grade V on Alphaville N.O.P who scored his best percentage of the week with 77.000%. Ciska yet again had to be content with second sport, after scoring 72.042% on Rohmeo.
--Ends--