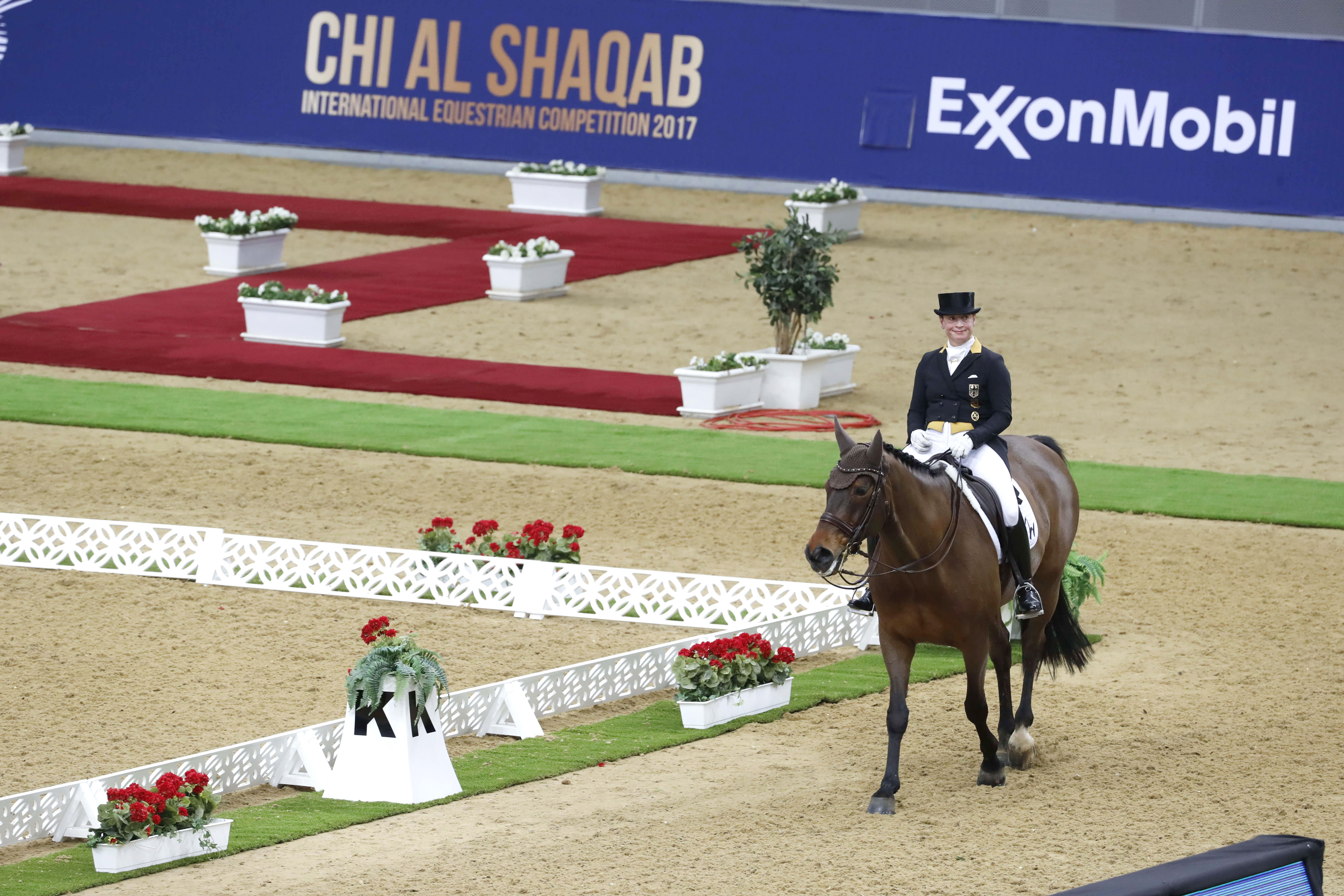 CHI AL SHAQAB 2017, Doha, Qatar
It was another masterful performance by World Number one dressage rider Isabel Werth in the Grand Prix Freestyle at CHI AL SHAQAB. Riding Don Johnson Frh, Werth scored a number of 8s and 9s in her test to finish on a score of 81.275%. Good marks came throughout the performance and for her collectives but her canter work was marked as outstanding by all five judges.
The Grand Prix Freestyle to Music is a competition where riders must perform certain dressage movements but make up their own sequence which is choreographed to their choice of music. They ride in front of five world renowned judges who mark their performance of the movements as well as "artistic" marks for their choreography and rhythm to the music.
Werth is the most successful equestrian Olympian ever having contested five Olympics, winning ten medals and six of those gold. She is a qualified as a lawyer but now rides horses full time from her base in Germany. She comes from a family steeped in equestrianism and started out competing in showjumping.
Catherine Dufour gave Werth a run for her money on her great horse Atterupgaards Cassidy to score 80.775%. The Danish rider scored a number of 9's throughout her test from all five judges. The 25 year old has partnered this horse since her days as a Junior rider winning team and individual gold medals at the Young Rider European Championships and the representing Denmark at the 2016 Olympics in Rio.
Anna Kasprzak took third spot for the second time with Donperignon. She scored a number of 8s throughout her test for a final percentage of 78.700% but was let down by her walk which scored several 6s.
Patrik Kittel finished fourth with Deja. The Swedish rider was the Freestyle winner in 2015 and 2016 and has participated in every CHI AL SHAQAB since the first in 2013.
15 riders competed in the Freestyle at CHI AL SHAQAB in front of five multi-national judges: Leif Toernblad from Denmark; Ghislain Fouarge from Holland; Andrew Gardner from Britain; Trondheim Asmyr from Norway and Susan Hoevenaars from Australia.
--Ends--