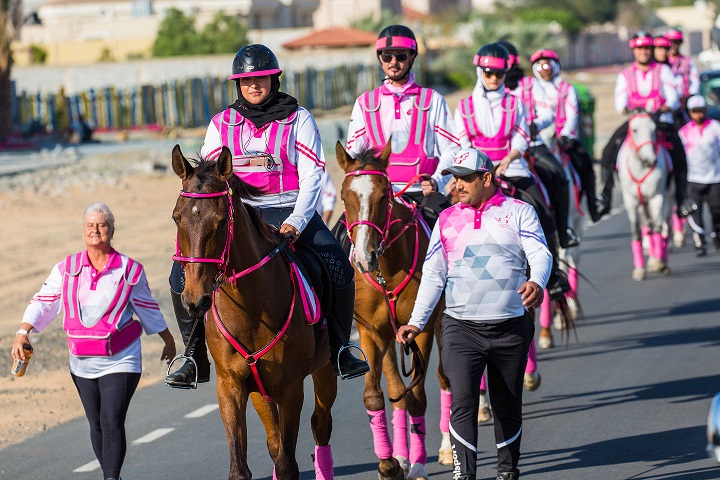 The pan-UAE breast cancer awareness campaign is already experiencing big visitor turnouts
Sharjah, 08 March 2017
As His Highness Sheikh Dr. Sultan bin Mohammed Al Qasimi, Member of the Supreme Council and Ruler of Sharjah signalled the 7th annual Pink Caravan Ride open, horse riders, doctors and volunteers, saddled up on Tuesday to begin a 10-day trek across the country to spread breast cancer awareness.
From the Sharjah Equestrian and Racing Club, the Pink Caravan battalion covered five medical centres set up in Sharjah, before finally ending the day's ride at Masafi Hospital in Fujairah at 7:00pm.
The organisers shared the first day's tally of the number of people who were screened as 566, of which there were 482 women and 84 men. These included 139 locals and 427 expatriates, who underwent 207 mammograms, 317 regular medical screenings and 42 ultrasounds.
"Community engagement is key to the success of this campaign, and 566 screenings on the first day is a promising show of the realisation of our efforts. We are grateful to our partners who are working tirelessly to further our mission – something that has transformed the Pink Caravan's essence from being just an awareness campaign into a bigger initiative of collective goodness and selfless giving," said Reem BinKaram, Chairperson of the Pink Caravan's Higher Organising Committee.
The riders halted at the Sajaya Young Ladies of Sharjah for lunch, where they were pampered with a hearty spread and rejuvenating massages. They also had a special Sajaya Café, which was selling juices and milkshakes to raise funds for the campaign.
Visitors covered a wide age range, and some clinics reported to have received women even in their early 20's.
"I was detected with a slight problem in one of my breasts last month, and I am glad I had another opportunity to get another screening done here," said a 23-year-old walk-in at Al Dhaid Hospital in Sharjah.
Of the 566 screenings, 149 were conducted at the fixed medical clinics in the seven emirates.
"The fixed clinics have definitely bumped Pink Caravan's capacity to cater to a larger number of walk-ins. To be able to reach out to the maximum number of people with awareness and medical assistance is at the core of this initiative, and I am pleased this new addition has propelled us further in that direction," BinKaram said.
All fixed medical clinics across the UAE have kicked in action and will be offering free mammograms and medical consultations until 17 March. These clinics are located at Sharjah's Al Majaz Waterfront; in Ajman Corniche; Dubai City Walk; Al Hamra Mall in RAK; Um Al Quwain's Al Khazan Health Center; the Al Faseel Health Promotion Center in Fujairah; and at the Abu Dhabi Corniche.
Themed 'Seven Years.. For Seven Emirates', the 10-day ride is travelling across the seven emirates from 7 to 17 March, offering free breast cancer screenings, and raising awareness about the disease by emphasising on the significance of early detection.
The horse riders will set off on today's journey (Thursday) at 09:30 from the Dibba Beach Park, and travel 25.6 km before they return to the day's starting point.
The mobile medical clinics will operate during the 10-day ride from 9:30 am to 7:00 pm. On Thursday, free breast cancer screenings and other medical check-ups will be available at Ras Al Khaimah's Saqr Hospital (for women and men), and those exclusively for women will be available Fujairah's Dibba Al Hisn Health Center and the Al Thameed Clinics in Sharjah. The Pink Caravan Ride mammogram mobile clinic will be stationed at Kalba Hospital in Eastern Sharjah.
A number of awareness activities and fund raising events will be showcased across the seven emirates every day of the ride. To stay updated and participate in these activities, visit http://www.pinkcaravan.ae/events-listing.php.
To enhance people's participation and charitable acts in the 'UAE Year of Giving 2017', donations for the Pink Caravan, as low as AED 5 can be made by sending an SMS to 2302 (Etisalat or du). Direct fund transfers can be made to Pink Caravan's Sharjah Islamic Bank account. The global online social platform 'JustGiving', or PC's official website, Facebook account - ThePinkCaravan, or their mobile app – Pink Caravan, can also be used for making donations.
--Ends--
Photo Gallery
Prev
1 of 8
Next