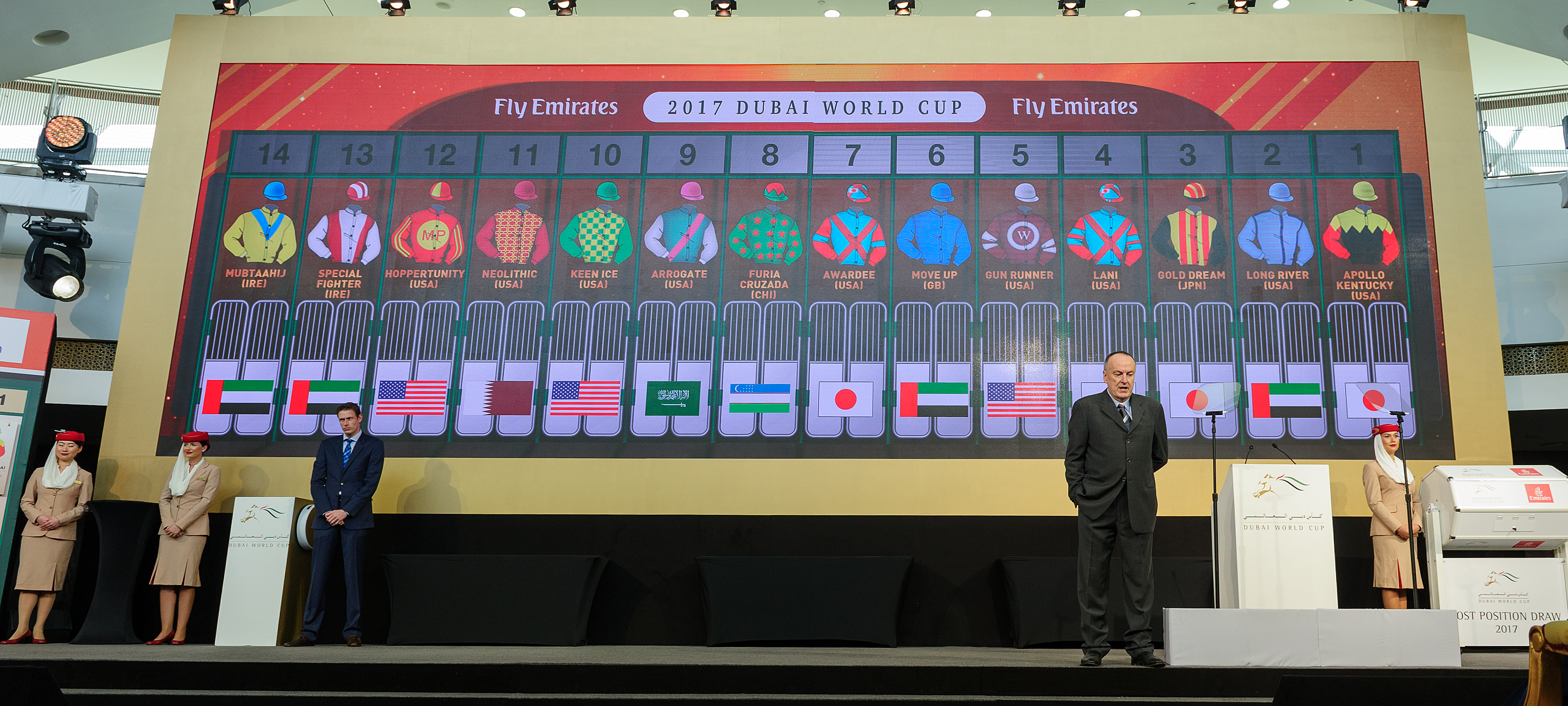 Via DWC
Apollo Kentucky (USA)
Stall – 1
Kenji Yamauchi, trainer – "I didn't really want the outside so I'm happy enough with an inside draw. I'll have to wait to see if the horse can live up to his American pedigree on dirt."


Arrogate (USA)
Stall – 9
Bob Baffert, trainer - "Nine is fine. The main thing for him is to get away then it's up to Mike Smith to decide. I just didn't want to be number 14 or on the inside otherwise it really didn't matter. I know I have a great horse. If he just repeats his last race we'll be in good shape."


Awardee (USA)
Stall – 7
Trainer Mikio Matsunaga - "It was a good draw. He always jumps well from the gate and number seven will give us some options."

Furia Cruzada (CHI)
Stall – 8
Erwan Charpy, trainer - "It's my first runner and it's exciting to be here. We've got speed inside and outside and I'm happy enough with midfield. She's adaptable. Realistically she's an outsider but she'll run to her best."


Gold Dream (JPN)
Stall – 3
Osamu Hirata, trainer – "The draw is OK and the horse is very well. He won from gate 3 in the Grade 1 February Stakes last month so it should be a good sign."


Gun Runner (USA)
Stall – 5
Scott Blasi, assistant to trainer Steve Asmussen - "We're very happy with it. If we could have picked one it would have been the five or six so we're happy."

Owner Ron Winchell - "His last run set us up well for where we are today. He's shipped well."


Hoppertunity (USA)
Stall – 12
Bob Baffert, trainer - "They are lucky colours. He couldn't be any better. He shipped well, he always get a piece of it and we hope one day he gets the whole enchilada.

"It's good for him. He likes to be out in the clear and then he'll come running."


Keen Ice (USA)
Stall – 10
Jerry Crawford, managing partner Donegal Racing - "He does his best running late from the gates so the draw doesn't make much difference.

"I was hoping for about the seven or eight and I got the 10. It was interesting where the other horses ended up, and I think it works out well for us. There's a lot of speed near us so I think Javier [Castellano, jockey] will have a lot of choices. If he's close enough when they turn for home he's going to be tough to deal with for everyone, except maybe Arrogate."


Lani (USA)
Stall – 4
Trainer Mikio Matsunaga – "We only had four and six left anyway, but this is a good draw. He's not the type of horse who can settle from the front, he's a hold-up horse. He doesn't mind the kickback and he doesn't have to travel wide from the draw, so I think it's good for him.


Long River (USA)
Stall – 2
Salem Bin Ghadayer, trainer - "The draw is fine, of course I am happy with that. He showed his ability last time in the Al Maktoum Challenge Round 3 and I hope he repeats it on Saturday. I'm so happy to just be in the race."


Move Up (GB)
Stall – 6
Saeed bin Suroor, trainer: "He's getting better all the time and it looks a good gate. The horse is doing really well since he came to Dubai

"I'm very happy it's the best draw. I was left with six but if I could have chosen I'd have gone between five and eight anyway."


Mubtaahij (IRE)
Stall – 14
Trevor Brown, assistant to trainer Mike de Kock, said: "What can we do? We're very happy with his progress since his last race. You have to take what you get."


Neolithic (USA)
Stall – 11
Jack Wolf, Starlight Racing - "Lucky 11! The horse looked very good on the track this morning. It's so far so good."
"I was told that posts three through eight are where you want to be, but I can't complain about (11). Keen Ice is directly inside and he likely won't be quick away from there. Directly inside him is Arrogate, so we will know where he is immediately."


Special Fighter (IRE)
Stall – 13
Maria Ritchie, trainer - "Ideally I'd have liked to have been in six or seven so being out in 13 isn't ideal and I just hope we don't get trapped three wide. It's not an easy draw as he usually races close to the pace and I just have to leave it to the jockey now."


Earlier the UAE Champion Jockey, Trainer and Owner Awards were given out by the Vice-Chairman,Meydan Group Mr. Malih Al Basti. With 52 wins in the season, Richard Mullen was named UAE Champion Jockey, while 39 winners in the season gave Doug Watson a second consecutive UAE Trainer's title. Khalid Khalifa Al Nabooda's successful season with 32 winners earned him the Owners title.