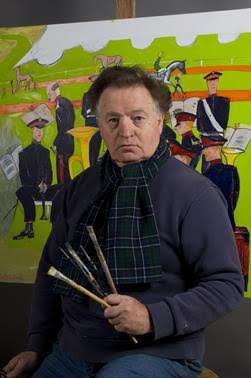 LATEST IMAGES OF THE RACECOURSE, ESPECIALLY ROYAL ASCOT, BY LOWRYESQUE AND LIGHTHEARTED EQUESTRIAN ARTIST, DEAUVILLE BASED ELIE LAMBERT, SOLO SHOW AT THE OSBORNE STUDIO GALLERY 19TH JUNE UNTIL 14TH JULY, TO COINCIDE WITH ROYAL ASCOT
Elie Lambert, whose life has been consecrated to The Horse, as gentleman jockey, bloodstock agent, racing correspondent and now full time equestrian painter, will be showing his new work to coincide with Royal Ascot. Attaching a selection of his newest canvases. His work is described by The Osborne Studio Gallery as a 'thrilling, altogether novel depiction of The Turf'. He does not look back to past masters, such as George Stubbs, Sir Alfred Munnings, or even Toulouse-Lautrec, for inspiration.
The late Sir Peter 0'Sullevan (former chairman of The Osborne Studio Gallery) said that Elie Lambert's 'colourful long legged horses are evidently shod by Louboutin.' He described Lambert as 'Lowryesque' and 'compulsive'.
FACT BOX
Exhibition: Elie Lambert
Dates: 19th June until 14th July 2017
Location: Osborne Studio Gallery2 Motcomb St, Knightsbridge,LondonSW1X 8JU
Entry: Free admission to the gallery
Website: www.osg.uk.com
ELIE LAMBERT - SOLO SHOW AT THE OSBORNE STUDIO GALLERY 19TH JUNE UNTIL 14TH JULY
His paintings bring a fresh perspective to the race course, combining wit, charm, naivete, and brilliant colours. He loves the fashionable crowds of spindly spectators, their clothes as vivid as the jockeys' silks.
Elie Lambert was born in Belgium in 1949, but emphasises his love of France in his own words, the most 'Francophile des Belges'. Lambert's life from early childhood has been consecrated to The Horse: licensed 'gentleman rider' at 18, reporter on racing for specialist French and British journals, bloodstock agent, antique and fine art dealer, and now a full time painter living in Deauville, just a few seconds from the racecourse. As a jockey he joined the stable of a racing grandee, the Vicomte d'Hendecourt. Young Elie always had his sketchbook at hand somewhere, and determined to study art, though a 'restless pupil', attending the Academie des Beaux Arts in Brussels, followed by the School of Architecture, for three and a half years.
Elie Lambert has sold much of his work through Christies. Tom Rooth, Associate Director of Sporting Art at Christies International, calls his work 'bold with a vibrant quality' adding that he has 'seen his following grow over the years.' This will be his second solo show at the Osborne Studio Gallery, London's leading gallery for equestrian art.
--Ends--
Photo Gallery
Prev
1 of 17
Next