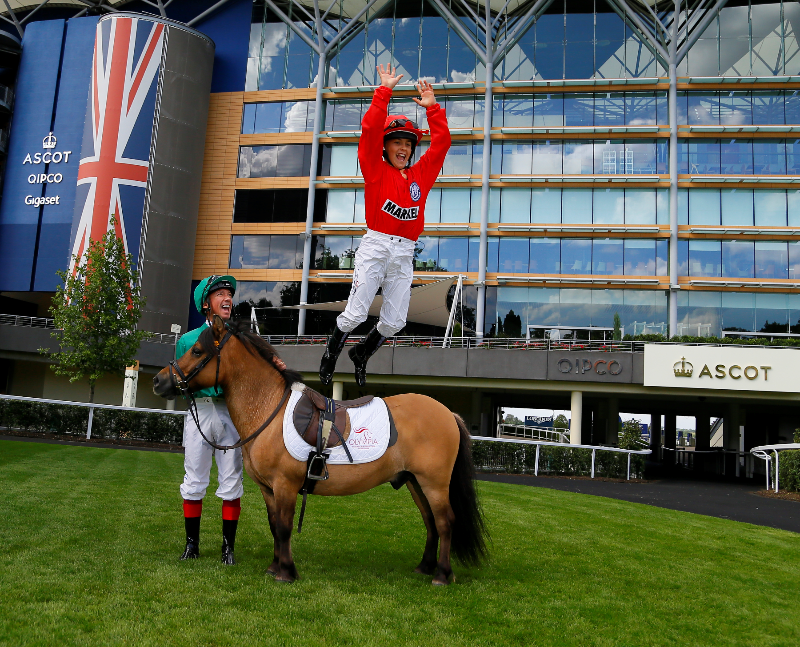 Via Olympia
Ahead of Olympia, the London International Horse Show, taking place on 12 – 18 December, Frankie Dettori headed to Ascot Racecourse to give his son, Rocco, some important training tips as he prepares to take part in the Shetland Pony Grand National and he himself prepares for the Markel Champions Challenge.

The crowd-favourite Shetland Pony Grand National, see's competitors who are aged between 9-14 and under five foot (152.4 cm), race around the arena on a miniature course with jumps which mimic those seen at an Aintree Grand National. Much to the delight of his famous jockey father, Rocco has qualified for Olympia, the pinnacle of the Shetland Pony Grand National calendar and will be racing each night at Olympia in front of packed audiences with the event expected to attract 90,000 visitors across the seven days.

Frankie Dettori, who was riding a slightly smaller horse than he is used to, took his son on the iconic Ascot racetrack to put him through his paces with the hope that Rocco can claim the ultimate prize at Olympia.

Frankie spoke about his afternoon with Rocco at Ascot, "After winning here on Saturday it was really special to be able to bring Rocco here, his first time on a racetrack. There has been more press interest in me today with Rocco, than there was on Saturday! Seriously though, we are really looking forward to going to Olympia together for the Markel Champions Challenge to support the Injured Jockeys Fund and of course the Shetland Pony Grand National."

Rocco commented on the day, "I can't wait for Olympia in December and I really want to win. I have loved every minute of being at Ascot and I think it would be fair to say I beat my Dad fair and square on the racetrack"

Frankie Dettori will also be competing at Olympia, the UK's biggest indoor equestrian event, to defend his title in the Markel Champions Challenge in aid of the Injured Jockeys Fund, but will face stiff competition as 'AP' McCoy, 20-time Champion jockey and legend of the jump racing world, is preparing to step out of retirement to rival the world's most famous flat jockey. In a bid to execute their best performance, both jockeys and their subsequent team members will have specialist coaching from top International Show Jumpers as they strive to cruise around the course of challenging Show Jumps.

Race Night', taking place at Olympia Horse Show on Friday 15 December 2017, will host an entire evening of racing themed excitement featuring top jockeys from the racing world. Spectators can also expect to see appearances from racing legend Bob Champion whose charity, The Bob Champion Cancer Trust, is supported by The Shetland Pony Grand National which will also be taking place, bringing racing stars of the future to compete in the fast-flying competition.

More information about Olympia, The London International Horse Show, and how to secure your place at one of the equestrian performances of the year can be found online here.


Olympia, The London International Horse Show

The first international horse show took place in the Olympia halls in 1907. Olympia, The London International Horse Show, the event we see today, was started by Raymond Brooks-Ward in 1971. This year's show will take place on 12-18 December 2017 in the Olympia Exhibition Hall, located in West Kensington, London. The show will play host to a packed timetable of all things equestrian and is expected to welcome over 90,000 visitors. It is regarded as one of Europe's oldest and most prestigious equine competitions. The show mixes top class equestrian action, including FEI World Cup™ Jumping, Dressage and Driving with family entertainment, such as the Osborne Refrigerators Shetland Pony Grand National and The Kennel Club Dog Agility.

Markel

For over 50 years, Markel has provided insurance coverage for horses and horse-related risks across the equine industry – they are also a great supporter of the Injured Jockeys Fund. This will be third Markel Champions Challenge at Olympia.

Injured Jockeys Fund

The Injured Jockeys Fund provides support to jockeys, past or present who are injured, unable to ride, or generally in need. Their fitness and rehabilitation centres at Oaksey House in Lambourn, Jack Berry House in Malton (and Peter O'Sullevan House – which will open in Newmarket in 2018) are also used by the wider equestrian community. Their association with Olympia, whilst being loads of fun for all the jockeys who take part, helps to raise awareness of what the IJF do.