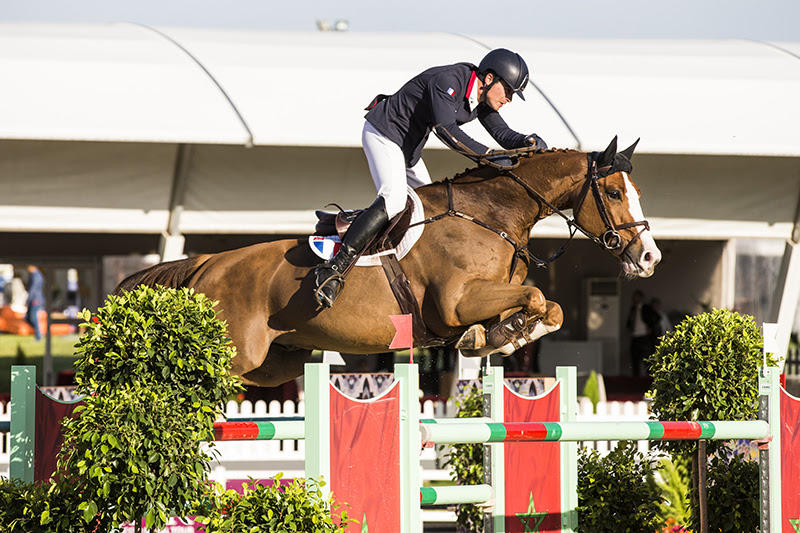 A French win for the CSIO of Rabat Grand Prix!
Via RBPresse
The Morocco Royal Tour carries on its tour on the Moroccan coast with this second leg: Rabat, capital of the country. They were forty-two riders to enter this Grand Prix 4*, honouring the late Princess Lalla Amina, within the Royal Moroccan Federation of Equestrian Sports' facilities. The French Emeric George has won in this coveted event.
Amongst those riders coming from all horizons to compete in the Rabat arena, only seven of them managed to face all the tricks of the course designer, Uliano Vezzani, and ended this first round without faults. A technical course, requiring very precise riders. Some of the world best riders, such as the French Simon Delestre or even the German Marco Kutscher, experienced difficulties on the course, both having four faults.
Eleven riders were allowed to begin this Grand Prix second round: three Swiss riders (Yannick Jorand, Pius Schwizer and Elian Baumann), three Frenchmen (Olivier Perreau, Philippe Rozier and Emeric George), a Belgian (Jérôme Guery), a Spanish (Alberto Marquez-Galobardes), a British (Alison Barton), a Brazilian rider (Pedro Junquiera-Muylaert), and a Syrian (Mohamad Mogheeth Al Shehab). Still very specific, this second round witnessed the riders fighting for the best time. The first to sign a double clear round was the French Emeric George, riding Chopin des Hayettes and realizing a fantastic time of 37,64 seconds, which no rider managed to match during the rest of this second round. "The course was delicate, which is often the case with Uliano Vezzani's ones. Here, the poles are quite light, we cannot afford many mistakes, we need be precise and choose the right distances. The course focused on both height and technique. In the jump-off, I think I saved some time on my turn behind the vertical Nº 2, with Qatar colour. Chopin managed to turn very fast, he was willing, and I could ride him during the course by taking all the risks. I had an advantage, riding a smaller horse, with those tight curves. Chopin is in great shape, and I am thinking about riding him again in the Nations Cup on Sunday, I will also count on him to the CSI4*W in El Jadida next week," the rider confesses.
The winner of the 2017 edition of this Grand Prix, Jérôme Guery, finishes at the second place with a time of 38,22 seconds. On the third step of the podium, we can find the Swiss Yannick Jorand in 4,24 seconds.
Tomorrow, the classes will start at 12:00pm and the day will end with the Winning Round of the CSI4* with a night class. The second major class of the weekend, the Nations Cup, is scheduled on Sunday, within the gorgeous facilities of Rabat. The starting order draw was held at the end of this Grand Prix, eight nations will compete on the track. Morocco will start fifth, France last.