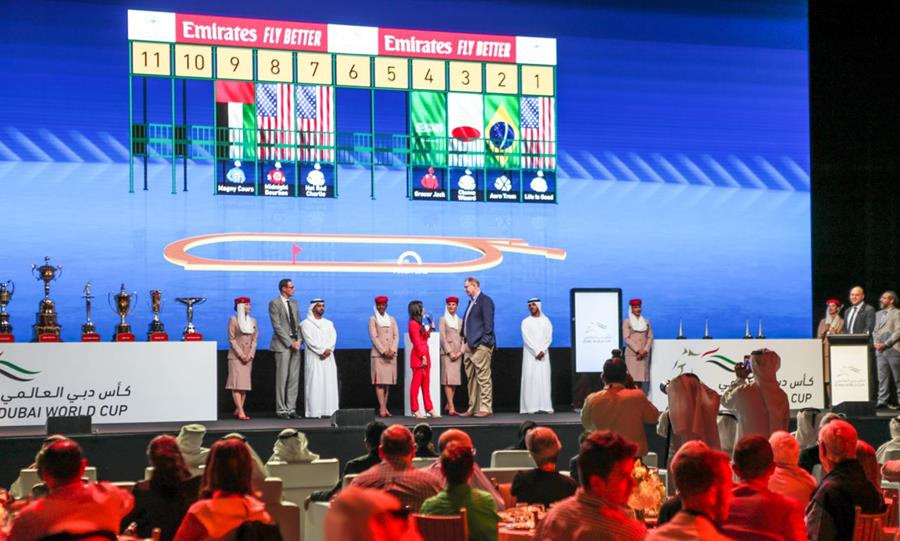 Life Is Good Handed Inside Draw For Dubai World Cup
Life Is Good, the leading fancy for the 26th running of the Dubai World Cup Sponsored by Emirates Airlines, will jump from stall one for Saturday's $12 million contest.
Staged at the lavish setting of Dubai Opera, the post-position draw for the 11-runner Dubai World Cup of 2022 was attended by owners, trainers and invited guests from around the racing world.
1. LIFE IS GOOD - Elliott Walden, president and racing manager of co-owner WinStar Farm said: "It's an 11-horse field. He has enough time to get over, and has enough speed to put himself in a good position.
"It's been amazing. He has a beautiful way of moving, I think he knows he's special. It is just a blessing to have him. It's a great honour to be favourite. We feel grateful to have him."
2. AERO TREM - Trainer Antonio Cintra said: "It's a good draw for him, he's a horse that can't run in the back (during his races) so it's a good draw.
"We're very proud to be here again. Last season was the first time we had a horse in the World Cup but I think this year we arrive with Aero Trem who is looking 100% so we're hoping for a good race from him."
3. CHUWA WIZARD - Trainer Ryuji Okubo said: "I'm happy with the gate and his condition is better than last year. He's got the experience of Meydan last year and that has served him well for this year. I'm happier this year and gate three is perfect."
4. GROCER JACK - Maureen Haggas, wife of trainer William, said: "We're quite happy with that, he's inexperienced on the dirt so he wouldn't have wanted to be drawn on the inside in stalls one to three. To be more to the outside is better for him and he'll work it out on the dirt."
5. COUNTRY GRAMMER - Assistant trainer Jimmy Barnes said: "He really showed up that night [in the Saudi Cup] and all signs are good for this. I really believe that he is a mile-and-a-quarter horse. He's such a gritty horse."
6. REAL WORLD - Trainer Saeed Bin Suroor said: ""I'm very happy with that, we've got the best draw.
"This was always the plan for him and we've always trained him on the all-weather track at home. He's always shown his form really well on that and he's trained really well so I'm very happy with him. He worked last Saturday and it was the best work I've ever seen, clocking 1 minute 26 seconds on the bridle."
He added: "He came back very well from his last run, his draw is brilliant and Christophe (Soumillon) the jockey knows the track very well. He's a two-time winner of the race (with Thunder Snow in 2018 and 2019) so it's great to have him on our side.
"It's a very tough race and it's hard to win. You always have to have a good horse. We've won it nine times and we'll try to do it again."
7. HOT ROD CHARLIE - Leandro Mora, assistant trainer to Doug O'Neill, said: "Very happy. He needs to prove it. We talked about it we wanted any post from one through seven, so we are happy.
Greg Helm, co-owner, Roadrunner Racing, added: "To be a part of this event in Dubai is outrageous. I am shaking like a leaf. I'm so excited to be here."
8. MIDNIGHT BOURBON - Carlos Rosas, exercise rider, said: "I didn't want him inside drawn on the rail so we have gone for the middle in eight. Hopefully his jockey Jose Ortiz can get a good position from there. He has been training beautifully since he finished third in the Saudi Cup."
9. MAGNY COURS - Godolphin's managing director Hugh Anderson said: "We have the best trainer in Europe at present and the leading jockey in Dubai on our side. Maybe they won't thank me for drawing nine, but he is in better form now having disappointed us a little last time in Saudi. He finished third in this race last year so we know he likes the track."
10. HYPOTHETICAL - Trainer Salem bin Ghadayer said: "It's a good draw not an excellent draw. We would have preferred to have been inside but what can you do, this is the race. We have options from there and I am so happy with the horse."
11. REMORSE - "Funnily enough, eleven is my lucky number. I don't think it's too bad. We can follow Hypothetical. We're just happy to be here in the Dubai World Cup.