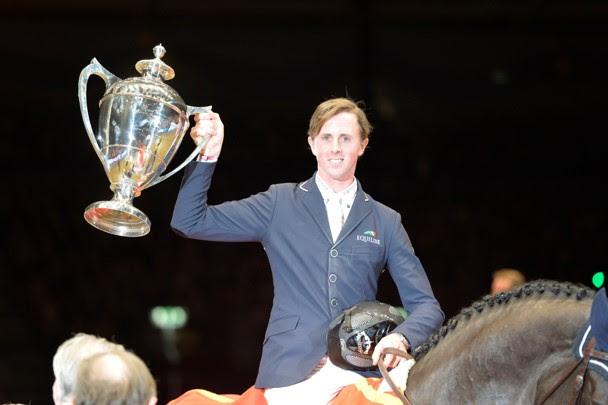 PRESS RELEASE (Edited)

Ben Maher saved the best until last at Olympia, The London International Horse Show, when winning the last big class of the week, the Olympia Grand Prix, with a classic display of calm horsemanship on his own and Quainton Stud's home-bred stallion Tripple X lll.

In a stirring climax to a week of great competition, the world number two narrowly overhauled his 58-year-old compatriot John Whitaker, who had the audience on the edge of their seats with his vintage display of bold riding on Argento.

Penelope Leprevost of France, third on Flora de Mariposa, set the early standard with a beautifully judged clear in the 12-horse jump-off but, to the home crowd's delight, Ben beat her by nearly a second.

John then produced his gallant effort, but a tiny check in front of the penultimate fence cost him a fraction of a second and first place in one of the few competitions he has yet to win.

Until this evening, only two senior British riders had won classes, William Funnell and Laura Renwick, who finished the show as H&M Leading Rider, and Ben was the first to admit that it hadn't been one of his finest weeks – the day before, Tripple X hit two fences in the Longines FEI World Cup qualifier.

"Actually, the horse was jumping well and I felt he was on form – it was me that needed to calm down," confessed Ben. "I have been struggling all week, making mistakes I don't normally make, so I went Christmas shopping and changed my plan."

The magnificent stallion, Tripple X rattled the second fence in the jump-off, but Ben kept his head. "I heard the crowd gasp but, if anything, that helped me. There's huge prize-money all over the world but you can't beat history and all the people cheering. I'd rather win the Grand Prix at Olympia than anywhere else in the world."

Amazingly, Ben is the first British rider to win the Olympia Grand Prix since Robert Smith in 2005, so to have a British one-two was doubly encouraging and greeted with rapturous applause by the packed house.

"I'm excited about this horse," said the sporting runner-up John Whitaker. "He's improving all the time and was bang on today."

And, although British riders certainly did not have it all their own way this week at Olympia, the H&M Leading Rider of Show accolade went to another popular Brit, Laura Renwick, whose consistency meant she beat Peder Fredricson (SWE) by four points to win the award.

Jur Vrieling (NED) was third, William Funnell (GBR) fourth, Italy's Luca Moneta fifth and the talented young Dutchman, Maikel Van der Vleuten, winner of the Christmas Masters as well as the Longines FEI World Cup, was sixth.

Thus ended a fantastic week at Olympia in which eight of 11 performances were a sell-out – a new record.

Laura Renwick, Britain's leading lady summed up the week: "This is right up there with anything else I've done. This is the showcase for the year for British riders and so to win this leading rider prize is a great thing for my CV!"

--Ends--

Audio Links

Please find copyright free audios link by clicking on the links below:

Scott Brash - The World Number 1 reflects on his week at Olympia Horse Show
http://www.lloydbell.co.uk/access/client_zone/Scott_Brash.mp3

Laura Renwick - The British rider crowned H&M leading rider of the show
http://www.lloydbell.co.uk/access/client_zone/Laura_Renwick.mp3

Ben Maher - The British rider wins the final International class of the show, the Grand Prix.
http://www.lloydbell.co.uk/access/client_zone/Ben_MaherSUN.mp3

Official Copyright Free Images

To download official copyright-free images from the Olympia Grand Prix please click here:http://hpower.zenfolio.com/media Password: hpower2013

Final Placings

For details of the final placings in the Olympia Grand Prix, please click HERE

Media Enquiries

For more information please contact Hannah Grissell, Revolution Sports + Entertainment
Email: hannah@revolutionsports.co.uk
Tel: +44 (0) 207 592 1207

Notes for Editors

Olympia, The London International Horse Show

Throughout the week of 16 December, the Olympia Exhi bition Hall, located in West Kensington, London will play host to packed timetable of all things equestrian and boasts a total of over 80,000 visitors. The show mixes top class equestrian action including FEI World Cup™ Jumping, Dressage and Extreme Carriage Driving with family entertainment, such as The Royal Andalusian School of Equestrian Art display and the Osborne Refrigerators Shetland Pony Grand National which raises money for Great Ormond Street Hospital. Olympia Horse Show celebrated its 100th Anniversary in 2007 and is regarded as one of Europe's oldest equine competitions. Olympia Horse Show's official charity for 2013 is veterinary charity, the Animal Health Trust, which works behind the scenes to monitor equine disease around the world and undertakes extensive on-going research to minimise the risk of injury to sport horses. The evening performance on Wednesday 18 December will be dedicated to the Animal Health Trust and 50p from every seat sold will go to the charity.