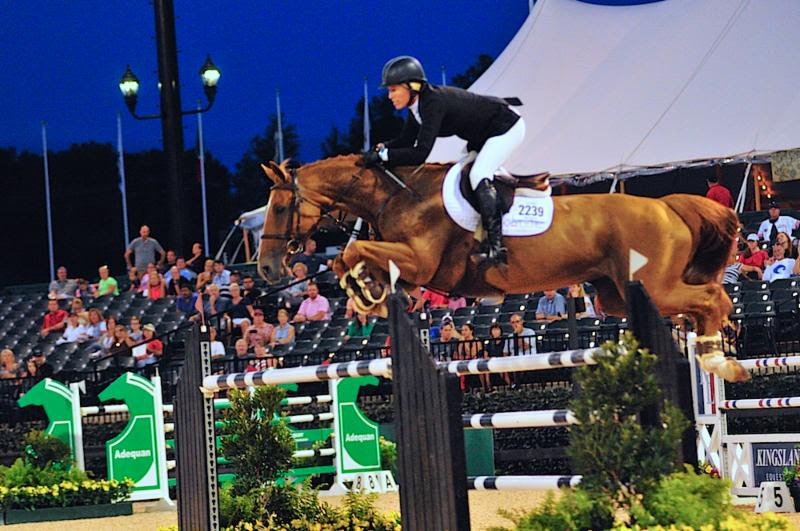 Via: World of ShowJumping
Schulyer Riley (USA) and Dobra De Porceyo captured the biggest win of the duo's career together in the $127,000 Ariat® Grand Prix FEI CSI 3* under the lights in the George H. Morris Arena in the Tryon Stadium at Tryon International Equestrian Centre (TIEC).
Riley and Dobra De Porceyo stopped the jump-off timers in 45.129 seconds as the only double-clear round of the night, beating out Angel Karolyi (VEN) and Venus, who finished in second place. Filip De Wandel (BEL) and his mount Gentley rounded out the top three with a time of 46.158 seconds and four faults.
Riley and Dobra De Porceyo took a methodical approach to Saturday night's class, designed by Hector Loyola (PRI), as both tracks were big and technical. Riley cruised through the first round of competition and laid down the only clear round in the jump-off to secure the win.
"I walked the course and thought it was quite difficult for the level and horses can always react differently under the lights. I was confident with Dobra because she's been here and performed very well and she has quite a bit of experience at night," commented Riley. "I felt like she was a little bit high in the beginning, especially over the triple bar, which was not my favourite part of the ride, but then we just smoothed it out and it was like nothing for her. She jumps everything so easily."
Entering the ring for the jump-off, Riley knew that she needed not only a fast time, but a clear round as the skilled and notoriously fast Karolyi was following her in the order of go. "I knew that I had Angel behind me and he was the one I was the most concerned about because he is extremely fast. He did go faster than me, but I was just a bit luckier tonight," said Riley. "I'm really so happy right now. I've had a few jump-offs where I try to go fast but get conservative with her at the end and I really let her open up to the last jump. I'm thrilled. She was just amazing."
The win capped a dry spell for Riley, who has waited patiently for another top finish at the Grand Prix level. Their win also marked Dobra's first win in a Grand Prix as the 2006 CDE mare (Action Breaker x Sanne) competed in her first Grand Prix last fall.
"This is my first Grand Prix win in probably two or three years and it's the first Grand Prix that she's ever won, so this is a very exciting and special night for us. She's just nine and we did her first Grand Prix last fall at indoors at Kentucky National.
She really stepped up this past winter in Florida," noted Riley. "We just know each other so well the hardest part is trying not to tell her too much. We try to keep a very clear and smooth communication, and she always looks to do the right thing for you."
The mare has been under Riley's guidance for most of her career, as she purchased her as a difficult and moody six-year-old. The duo formed an inseparable bond, which was evident to the crowd, as they made easy work of two technical tracks.
"She was tough. She was really difficult at the beginning and she's a chestnut mare," she smiled. "I took my time with her and let her know that we were going to work as a team and I was never going to try and overpower her. We channelled all of her fiery energy into what I have now. She's probably one of my most favourite horses that I've ever sat on."
Final Results for $127,000 Ariat® Grand Prix:
1- DOBRA DE PORCEYO, 2006 CDE mare by Action Breaker x Sanne SCHUYLER RILEY (USA), Wolfstone Stables & Sales Inc: 0/0/45.129VENUS, 2002
2- Dutch Warmblood mare by Tangelo Van De Zuuthoeve x Pascha W ANGEL KAROLYI (VEN), Raylyn Farms: 0/4/44.438
3- GENTLEY, 2006 Belgian Warmblood gelding by Bentley vd heffinck x Ulatrice vd schildeboshoeve FILIP DE WANDEL (BEL), Filip De Wandel: 0/4/46.158
4- CORINO, 2004 Holsteiner gelding by Clearway x Ohara SHARN WORDLEY (NZL), Sharn Wordley: 0/4/46.612
5- CASPER, 2003 Swedish Warmblood gelding by Cardento x Ronja LORCAN GALLAGHER (IRL), Sweet Oak Farm: 0/12/49.8
6- ALLURE G, 2005 Dutch Warmblood gelding by Oxfort x Ulette HECTOR FLORENTINO (DOM), Hector Florentino: 0/16/46.749
7- GALOUS, 2002 Irish Sport Horse gelding by Touchdown x Huff & Puff DENISE WILSON (USA), Blue Gate Farm LLC: 4/82.56
8- ENTRE NOUS, 2004 Belgian Warmblood gelding by Conan Z x Topia Van De Padenborre LAUREN TISBO (USA), Tequestrian Farms, LLC: 4/83.69
Schuyler Riley and Dobra De Porceyo. Photo ©BarryKosterPhotography & ©ErikOlsenPhotography
--Ends--