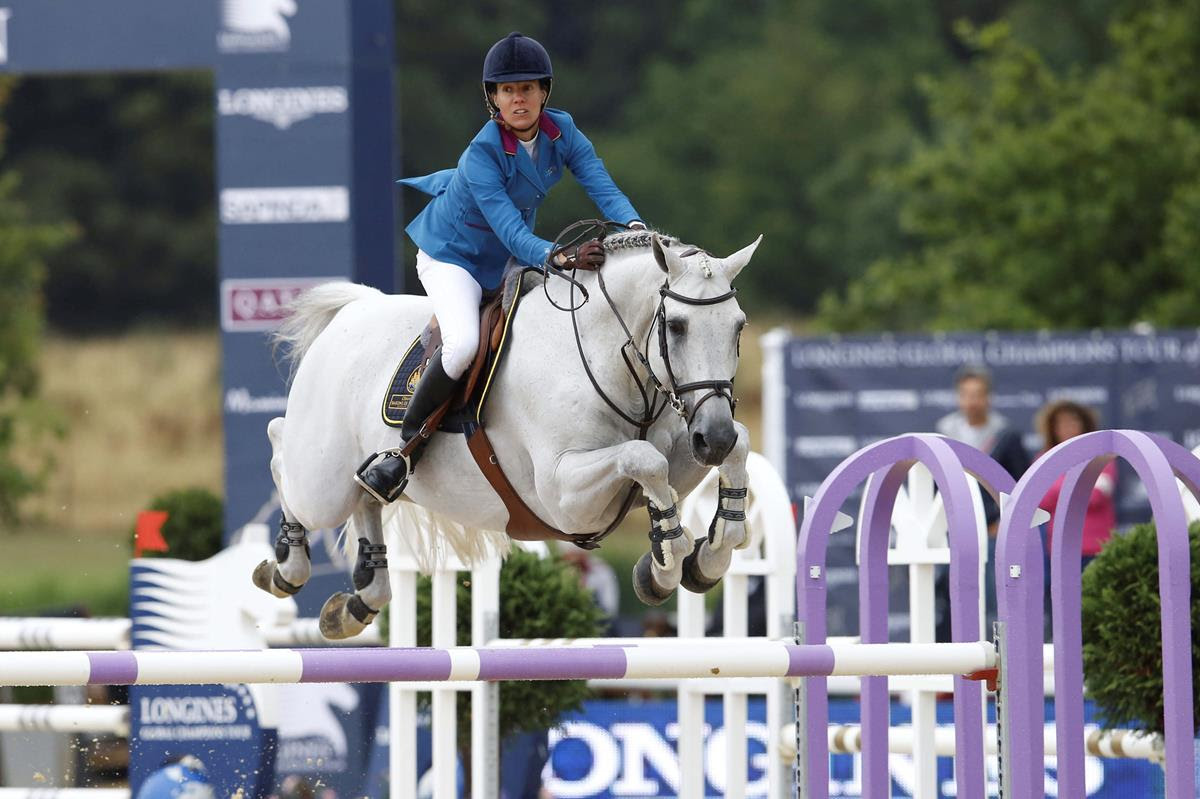 Via: LGCT
Luciana Diniz (POR), currently second on the ranking leaderboard, has thrown down the gauntlet to her rivals by bringing star stallion Winningmood to the impressive Stadio dei Marmi venue. With just 22 points difference between her and ranking leader and world number 1 Scott Brash (GBR), Luciana will be hoping for a strong performance as the 2015 Championship battle gallops to an exciting climax with the final three events of the season.
Rolf-Göran Bengtsson (SWE) will also be competing with both Casall ASK and Clarimo ASK, and in a positive position at this stage in the highly competitive season. Rolf-Göran has been on strong form during recent Longines Global Champions Tour events, with his famous stallion Casall ASK competing at the majority of the shows and achieving enough podium finishes to put him in 3rd place overall so far. Harrie Smolders (NED) will be looking to take a second win of the season and will be riding his 15-year-old bay mare Regina Z and aiming to match his emphatic Longines Global Champions Tour Grand Prix of Shanghai title.
​The unique show jumping arena in the 'Eternal City' will see some serious horse power on display. Ben Maher (GBR) will compete with Diva II, his 10 year old chestnut mare, America's Lauren Hough will attend with Quick Study and Sheikh Ali Bin Khalid Al Thani (QAT) will bring his 10 year old bay gelding First Devision, who recently came second in the early CSI5* class in Valkenswaard.
Australia's Edwina Tops-Alexander brings a strong line up of Lintea Tequila and Caretina De Joter and will be looking for a repeat of her sensational win in Valkenswaard. World class combinations such as Ludger Beerbaum (GER) and his phenomenal stallion Chaman, Simon Delestre (FRA) and his ever consistent Classic Bois Margot, Kamal Abdullah Bahamdan (KSA) who rides his 2012 Olympic mount Noblesse de Tess, LGCT Grand Prix of Paris Bronze medallist Darragh Kenny (IRL) and Sans Soucis Z, Pénélope Leprevost (FRA) and Ratina D'La Rousserie, Christian Alhmann (GER) and Taloubet Z, Maikel van der Vleuten (NED) and VDL Groep Verdi TN N.O.P. and LGCT Grand Prix of Valkenswaard bronze medallist Bassem Hassan Mohammed (QAT) with California, it's set to be an enthralling round of competition in the Italian capital.
--End--