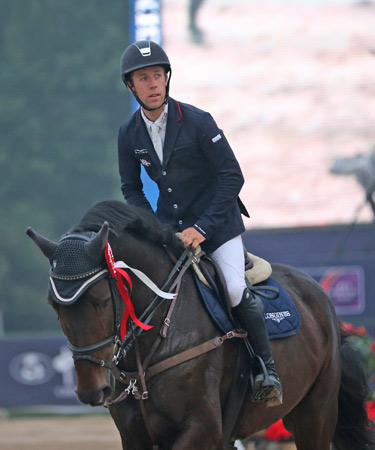 Via: Horsetalk
Leading showjumper Scott Brash touched down in Beijing at 5am on Tuesday local time and hopped on his latest World Cup ride, fresh from his second place in the 5* Grand Prix of Los Angeles.
But whether it was the 15-hour times difference, jet lag after his trip from the Masters of LA competition, or just a clash of the wills, Brash and the grey mare Wavanta notched up eight faults in their round in the opening competition of the Longines FEI World Cup Jumping China League.
All the international riders are on borrowed horses for this competition, going up against riders from China, Korea, Taiwan and Hong Kong in Chaoyang Park.
Current team European Champion Maikel van der Vleuten topped the first qualifier on A Termie. In second was Britain's Simon Buckley with Chinese rider Ciren Bianba third, ahead of Jan Phillip Weichert from Germany.
Despite placing down the rankings, Brash said he felt that he and Wavanta, a KWPN mare, would put on a good showing in the final.
Hong Kong's Patrick Lam is leading the China League rankings on 40 points, ahead of his team-mate Raena Leung with 34 points.
Lam was sixth in the first qualifier, and Leung had 8 penalties, but her goal is to take part in the World Cup finals in Göteborg 2016. Leung, 27, was the first winner to represent the China League in Sweden. She lives and trains on her own yard in northern Germany, while Lam trains from his home in Austria.
Closing in on the two Hong Kong riders is China's Han John Zhuangzhuang, who with 28 points is still in reach of a possible title, but because of the Chinese quarantine regulations, which have still not changed, cannot take a horse to Göteborg.
The finals of this year's China League start on Wednesday, October 7 at 2pm local time.
--End--