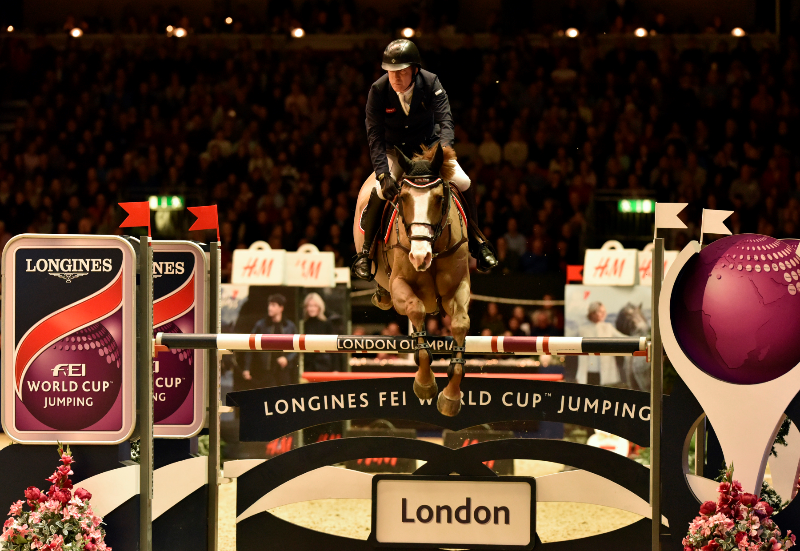 Via: Revolution Sports
Media Release: 06 December 2016
Olympia, The London International Horse Show, will host 10 Olympic gold medallists who will be providing top class sporting action across the seven days of competition.
From the world of Show Jumping, five of the top 10 riders from across the globe, including former World No.1s, Germany's Daniel Deusser and Switzerland's Steve Guerdat, will be under one roof to compete at the UK's premier indoor horse show. Carl Hester, gold medallist from London 2012 and silver medallist in Rio 2016, will be heading up Team GB's dressage entries. The sporting excitement does not end there, with the three-time World Champion, Boyd Exell, returning to wow the crowds with his Carriage Driving skills.
SHOWJUMPING
Olympia's Show Jumping competition will have a dazzling array of first-class riders set to take centre stage during a week of unmissable competition.
Britain's most renowned riders are, once again, congregating in London for five days of competition including the Longines FEI World Cup™ Jumping Leg presented by H&M and the Olympia Grand Prix. London 2012 team gold medallists Scott Brash and Ben Maher will be joined by rising Team GB star Jessica Mendoza, as well as William Funnell, Laura Renwick and Olympia newcomer Anna Power. Reigning Olympia Grand Prix Champion, Michael Whitaker, returns alongside his brother John Whitaker. Competing for the younger generation of the Whitaker family, Jack Whitaker lines up for the Dodson & Horrell and the World Class Programme Under 23 Championship.
The Brits will be rivalled by a strong international contingent including the current Olympic team gold medallists from France, Kevin Staut and Penelope Leprevost who are currently ranked World Nos. 8 and 9 respectively, alongside team mate Philippe Rozier. The German challengers will mount a strong opposition with World No. 3 Daniel Deusser, hoping to add another World Cup™ victory to his 2016 tally, appearing alongside his compatriots, Marcus Ehning and Marco Kutscher.
Peder Fredricson, individual silver medallist in Rio, and Steve Guerdat, individual gold medallist in London, will also feature amongst the leading riders. 2008 Beijing team gold medallist Laura Kraut, will be joined by Edwina Tops-Alexander and team silver medallist Malin Baryard-Johnsson to add further strength to the depth of the field.
For a full list of entrants, please see here.
DRESSAGE
On the evenings of the 13 and 14 December, the FEI World Cup™ Dressage supported by Horse & Hound comes the Olympia Exhibition Hall with eight Rio Olympians taking part.
Setting the standard will be Great Britain's Carl Hester, aboard his Olympic medal winning partner Nip Tuck, who will be hoping to repeat his 2015 winning performance in the FEI World Cup™ Dressage Freestyle to Music supported by Horse & Hound. Competing against him will be fellow London 2012 Olympic team gold medallist, Laura Tomlinson, who will be attending Olympia as a final competition before she goes on maternity leave, and leading Dutch riders, reigning World Cup™ Champion, Hans Peter Minderhoud and Edward Gal.
Representing Ireland will be Judy Reynolds, who currently holds the highest Grand Prix score by any Irish rider in international competition. Olympia will be seeing a new face as Japan's Akane Kuroki will be attending for the first time, after making her international debut at the Rio 2016 Olympics.
Click here for a full list of entrants.
CARRIAGE DRIVING
Olympia is set to provide an exhilarating display of skill, as the World's best carriage drivers storm the arena.
Current World Champion Boyd Exell will be returning to the Olympia Grand Hall, armed with a team of horses to battle for the number one spot. Great Britain's Dan Naprous will be contending against Boyd, pulling out all the stops in an endeavour to achieve first place position.
To view the complete list of entrants in the Carriage Driving competition, please click here.
--Ends--