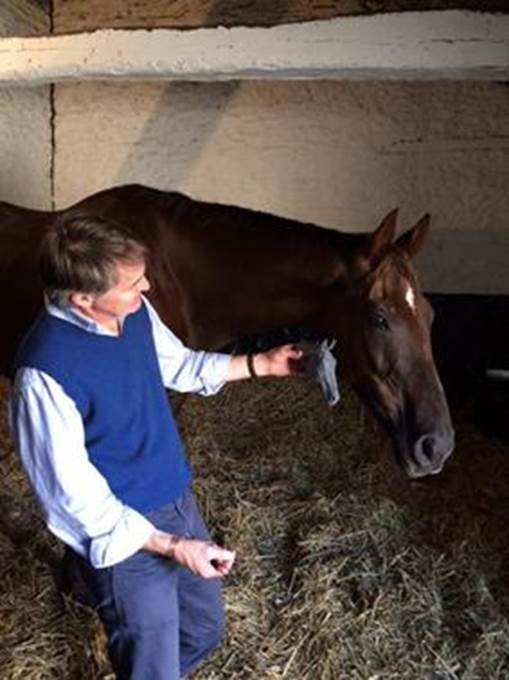 BRONZE SCULPTURE OF REMARKABLE RACEHORSE DENMAN BY TRISTRAM LEWIS, AVAILABLE IN AN EDITION OF TWELVE
Hope you will be interested in the story behind a new bronze portrait of Denman, National Hunt racehorse, nicknamed The Tank, described by Geoffrey Hughes, Director of the Osborne Studio Gallery as 'big, brave with a huge heart'. Denman ranks with the great chasers such as Red Rum, Arkle and Desert Orchid.
Tristram can describe each stage of his creative process which has taken 300 hours so far. The maquette (illustrated below) has already won the heart of owner Mr Paul Barber. It is being cast in bronze at Castle Foundry, Liverpool.
Tristram Lewis has painted throughout his life as a pastime, but after a business career including tuna fishing and building houses, he is now dedicated to writing, painting, sculpting and lecturing full time.
He has hunted for thirty years, the horses at his Wiltshire home usefully doubling as models. He has a particular understanding of the subtle differences in character and bone structure between one horse and another. He is also completing the first fully illustrated biography of Sir Alfred Munnings.
SEAN MAGEE, racing journalist entrusted with organising his archive by the late Sir Peter 0'Sullevan (The Voice of Racing and Chairman of The Osborne Studio Gallery). Books by Magee include Channel 4 Book of Racing, Ascot, the History, and Arkle.
On Denman, he writes:
"Denman is one of those rare racehorses who became considered a true force of nature – a steeplechaser whose barnstorming style was one of the great spectacles of the sport, a sight to warm the cockles on the coldest winter afternoon.
"There was no better illustration of his relentless style of racing than the 2007 Hennessy Gold Cup, when he pummelled his rivals into the Newbury turf with a domineering performance. Those of us privileged to have been there knew we were witnessing something very special – one of the great steeplechasing moments of the post-war era.
"No wonder he soon attracted the nickname 'The Tank'.
"For a display of sheer power his victory in the 2008 Cheltenham Gold Cup came very close to that Hennessy, and watching him hammer down the hill with his opponents all struggling is another indelible memory.
"Denman underlined his class when landing a second Hennessy in 2009, by which time his place in the pantheon of great chasers was secure."
GEOFFREY HUGHES, director of London's leading equestrian gallery, The Osborne Studio Gallery, writes: I think the key to this story is he really captured the public's imagination, partially due to his great rivalry with stable mate Kauto Star (they lived in next door stables and loved each other).
'The Tank' as he was fondly known was considered in the same league as Red Rum, Arkle and Desert Orchid.
--Ends--
Photo Gallery
Prev
1 of 14
Next